Update Private Catalog Products and Product Groups by User Interface
Updated by Patrick Mares
This article documents Ecommerce management systems. If you need instructions on accessing Ecommerce,
click here.
Please read Ecommerce Products, Product Groups, Catalogs and Categories if you need any clarification on how these terms are used in Ecommerce.
Add a Product Group
Select Catalogs > Search Private.

Click the blue New button at the top of the page.

The Create New Product pane will now allow you to create or select a Product Group.

You may access an existing Product Group by entering the Product Group's exact Brand/Manufacturer Name and Product Group Name details as shown below. However, we recommend using the search procedure under

Edit details in an Existing Product Group

to avoid accidental duplicates.

Brand/Manufacturer Name (required): The name of the brand or manufacturer.  Make sure to watch your spelling so that you don't end up accidentally creating two manufacturers with similar names.
Examples of Brand/Manufacturer: Sea-Doo, AFX, Stillen, Kubota, Seizmik, Yamaha.
Product Group Name (required): Product Groups represent a webstore listing and contain one or more Products (also known as Variations) each with their own unique Manufacturer Part Number (MPN). Similar Products belong in a Product Group. Customers can then select individual Products on the Product Group webstore listing with dropdowns and selectors for attributes like color and sizer.
Examples of Product Groups: Force Gloves, Outpost Jacket, GX-J Boots.
Product Description (optional): Product Group Description that shows on webstore page. HTML formatting is recommended but not required.  Most products within a Product Group will have the same description. 

Click Save and you will see the interface for creating an initial Product for your Product Group.
Edit details in an Existing Product Group
Select Catalogs > Search Private.
Use search tools to locate a Product in the Product group you wish to edit and click the pencil icon to the left of the Name field (this is the Product Group Name)

Brand/Manufacturer Name and Product Group Name fields for existing Product Groups are locked and not editable, but you can update the Product Description field that shows on the webstore listing or manage Products within the Product Group here.

If you would like to edit Products you may click on the Product name in the Variations section. To create a new Product click Add Variation. Or you may select Delete to remove Products.
Add a Product
After Adding a Product Group or Editing Details in an Existing Product Group you can add or edit Product Groups.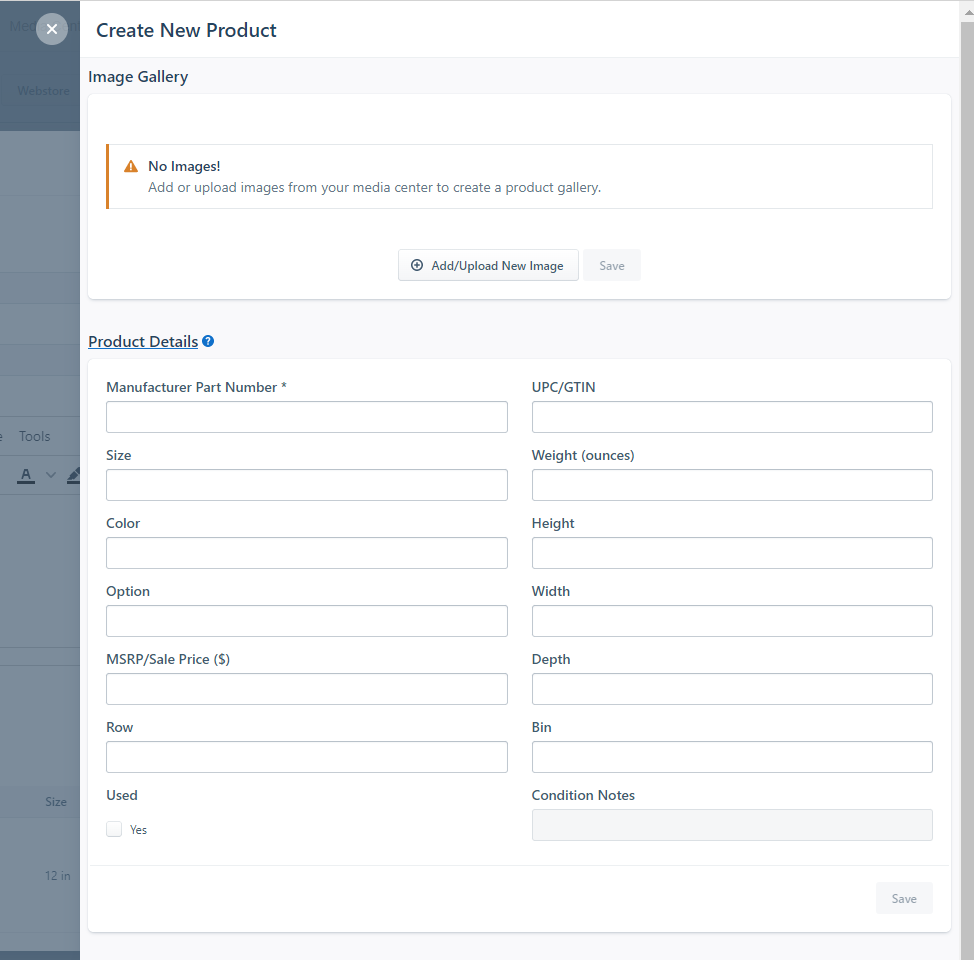 New Product Groups offer the following fields:
Add/Upload Image: Upload images for your Product or select images already in Media Center. Images are very important for selling Ecommerce Products customers cannot inspect in person.
Manufacturer Part Number (Required): The MPN from the Manufacturer or Original Brand. A unique MPU is required for each Product.
Size: The size of the product. Keep your naming conventions consistent throughout all of your apparel data. That way when people are shopping on your webstore everything feels predictably organized and items do not fall out of searches because they use a different scale. Example sizes include:

Large, Medium, Small
8, 9, 10, 11
80.00mm, 90.00mm, 100.00mm

Color: Product color. Be consistent to avoid accidentally hiding Products from customers. Example colors include:

Red, Yellow, Green
RD, YLW, GRN

Option: Additional differences between Products in a Product Group for customer selection.  Example option sets include:

Titanium, Steel, Aluminum, Carbon Fiber, Stainless Steel
Knurled, Deep Cut, Slot Track, Dimpled
Chrome Accent, Gloss Black Accent, Carbon Fiber Accent, No Accent
Standard, Short, Long

MSRP/Sale Price ($): Price listed in your webstore for a Product.
Used/New (Required): Check the box if it is a used product. 
UPC/GTIN: Some marketplaces utilize a Universal Product Code or Global Tracking Item Number.  If input, the software will push to the marketplaces for you.
Weight: Weight in ounces. No decimals, abbreviations or text. A 1lb 1oz object would contain 17 for weight.
Height/Width/Depth: Dimensions in Inches. No decimals, abbreviations or text.  A 1 in diameter, 17 in long pole would contain 17, 1 and 1 in these fields.
Bin: You may note a Bin location for a Product here.
Condition Notes: Condition of Product. This field is employed by used parts sellers for conditions like: heavily worn, oxidized, deep scratch, like new, etc.
After adding all information for a Product click Save. You may then continue to add Products using the Add Variation button or click the X button to close the Product Group management interface.
If you don't see the Add Variation button, try scrolling down inside the pop-up. It may be out of sight.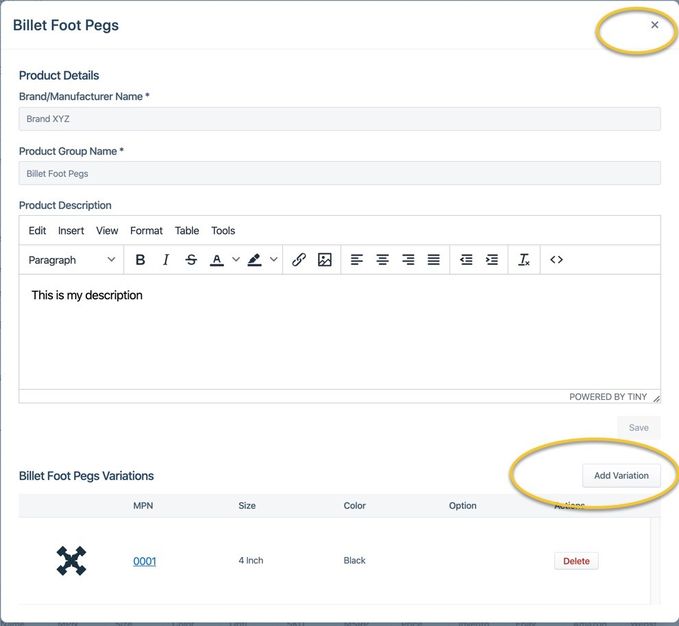 Edit Products to manage Sale Price, Fitment and Inventory
Private Products are edited under Catalogs > Search Private.
To edit a Product group you may click the Pencil Icon next to the Product MPN. You may also select the name of a product if you already have the Product Group management pane open for that Product.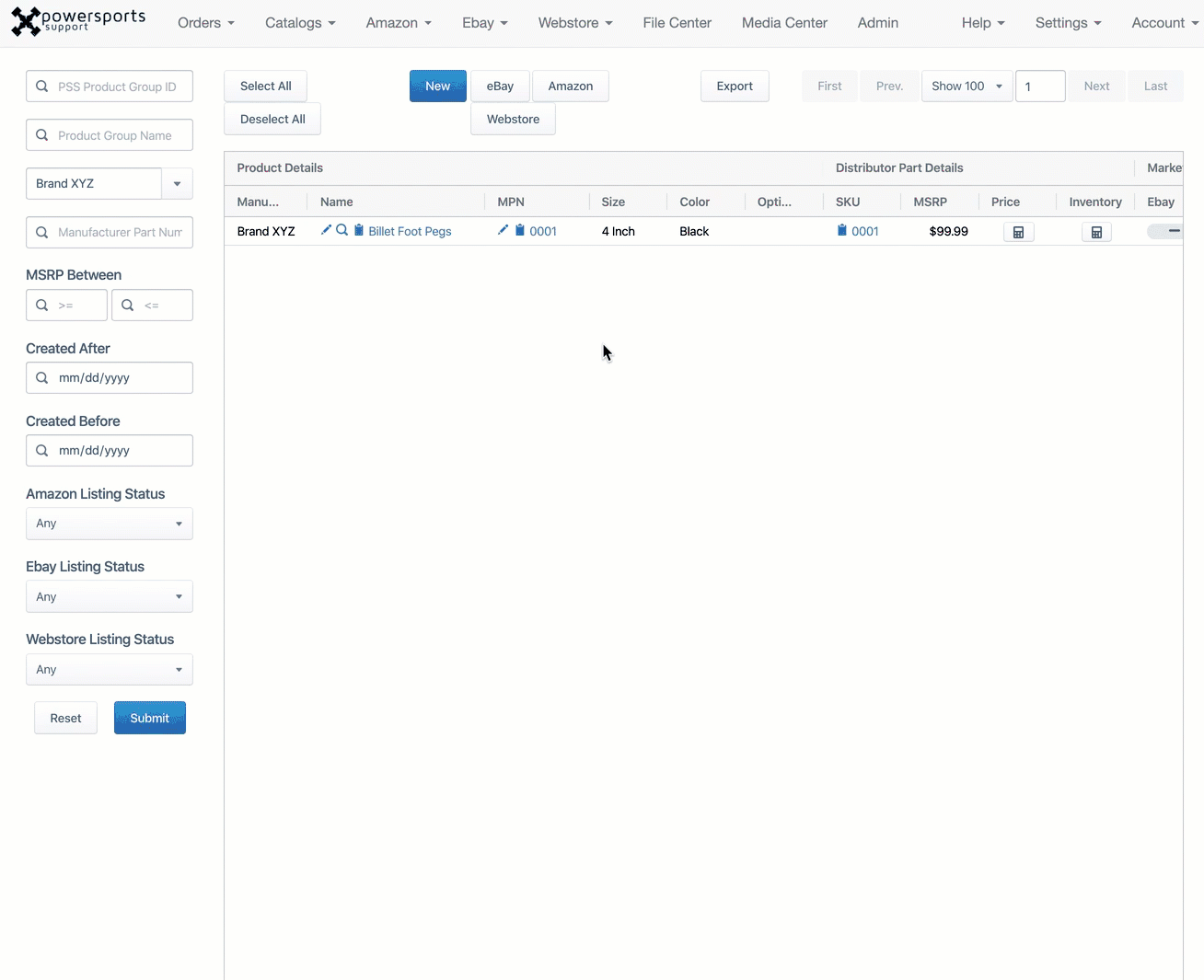 Most other fields detailed under Add a Product can be edited here, however MPN cannot. Products with incorrect MPN must be deleted and recreated as MPN cannot be edited in the interface.
There are also new fields for Inventory and Fitment
Quantity: The quantity of a Product in stock.  You will need to update this as Products sell and are restocked.
Lead Time: Days required before shipment tracking can be made available to the customer. Products in your store typically have a value of 1 (1 day).
Sale Price: Products in Product Groups set to On Sale replace their standard Price value with Sale Price if: a Sale Price exists and the Product is in stock. Sale Prices for On Sale units will not be affected by Price Rules or Price Overrides on a Product.
Year/Make/Model: These values indicate vehicle and equipment fitment compatibility for parts. Enter the Year, Make, and Model for each possible fitment combination, clicking the Add button after each full set is entered.

You must be careful to not create multiple instances of a Make or Model. If you create a fitment and use Yamaha as the Make, and then create it again, but this time you accidentally misspell it as Ymaha, you have now created two versions of Yamaha. If you aren't careful you are going to end up with two different versions on your Year, Make, Model search.
We recommend updating Inventory on a daily basis. You may wish to use the Lightspeed 3PA integration or CSV import to keep prices and inventory up to date with less effort than manual updates.
Video Tutorial: Adding a Product
Next Steps
Listing Private Catalog Products to Webstore - 
Now that we have gotten the catalog data into PSS we are now ready to list it to the webstore. You may list items via the
user interface
or update via a
csv file.
Tell us how to make it better.