Updated by Patrick Mares
Estimated Reading Time: 15 Minutes
Required Permissions: Newsletter
Log in to the newsletter tool.
Click on the Campaigns tab from the upper bar.
Click the Create New Campaign button.
Name your newsletter in the Create New Campaign pop-up and click the Continue Button.
Drag in elements from the left and customize the mailing until you're satisfied with it.
Click the Review & Send button in the upper right.
Fill in the details and recipients for your newsletter and click the Send button at the bottom of panel to send your newsletter.
Newsletters broadcast your business news directly to the people who care: customers who sign up for your email list. This article explains how to create a Newsletter using the Dealerspike Newsletter tool.
Create a New Campaign
Log into the Dealerspike Newsletter tool. If you need help click here.
Click on the Campaigns tab on the second bar from the top. 

If this is your first Newsletter Campaign click the blue "Create new campaign button" in the center of the screen. Users with existing campaigns will see the Create new campaign button on the bottom-right if they wish to create a new Campaign.

Enter your Campaign name. This will not be visible to customers.

Use the "Regular Email" selection to create a campaign. "A/B test" Campaigns can be used to compare two previously created campaigns.

Use one of dozens of pre-built templates as a base, or click the "Start from Scratch" button for a blank canvas. You are now editing your new Campaign.
Editing Newsletters
If you are not editing a new Campaign you may click on the name of any Newsletter Campaign on the Campaigns tab to edit an existing Campaign.
Edit Newsletter Elements
Clicking on an element will pop up a small toolbar with four icons. These allow you to update your element: [from left] Move, Edit Properties, Copy and Delete.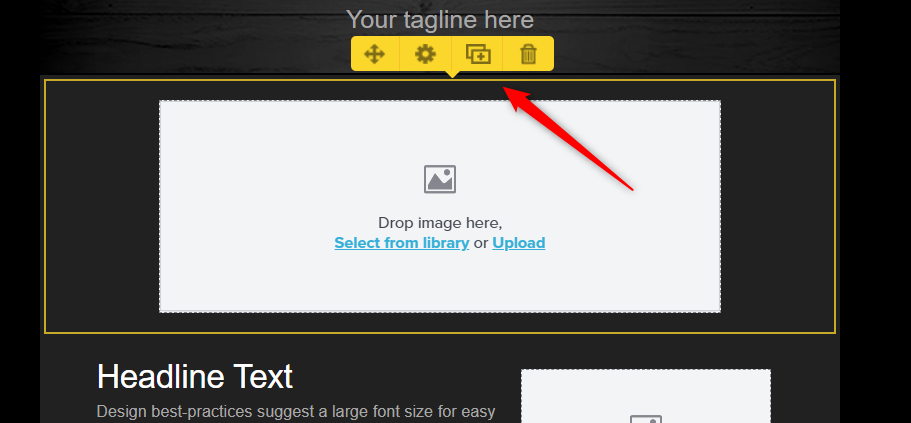 You may also pull in a new element from the elements toolbar on the left.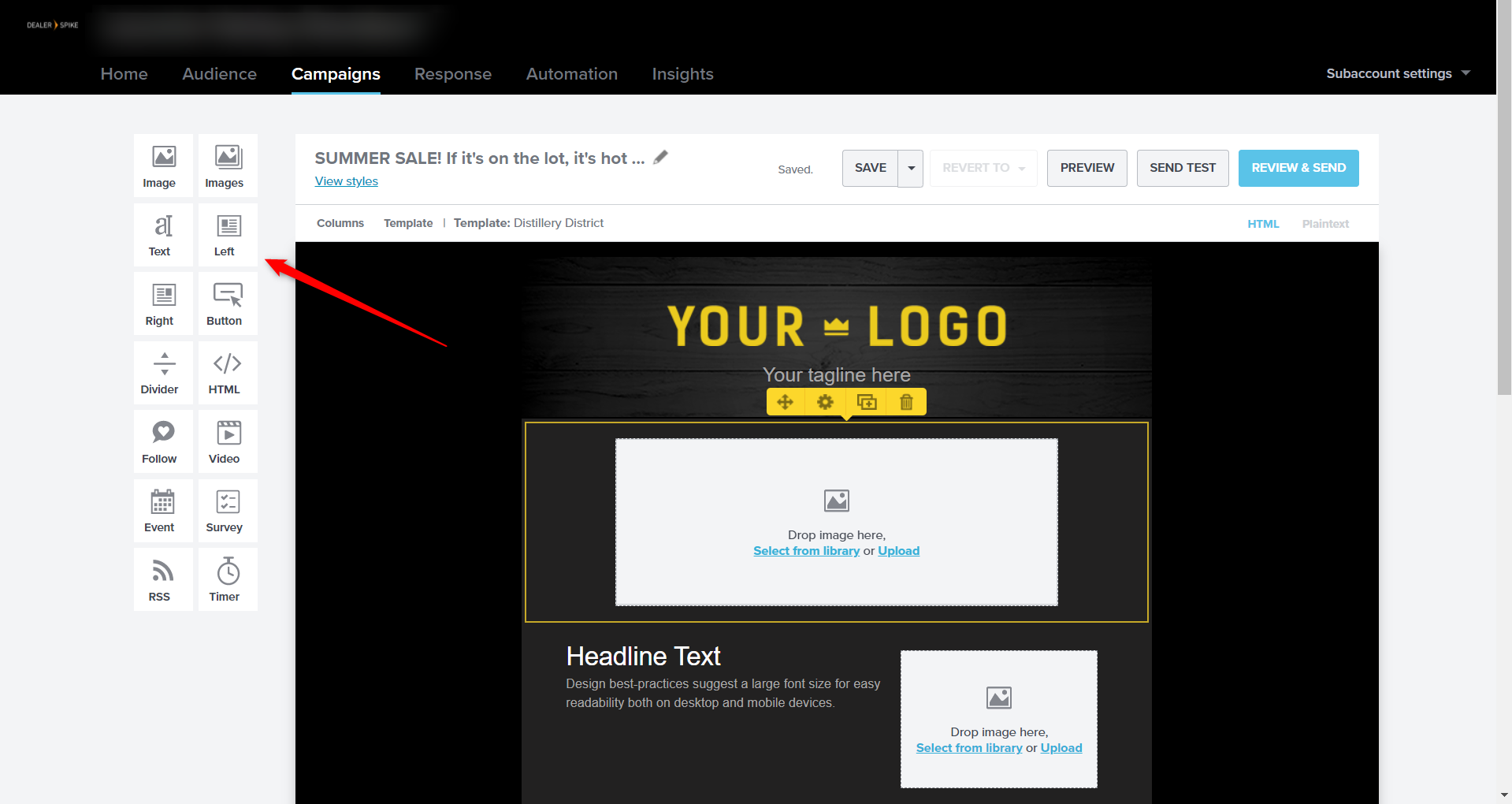 Any existing or new element you drag over the newsletter will cause yellow striped bars to appear. Correct placement of an element will result in those bars turning green like below.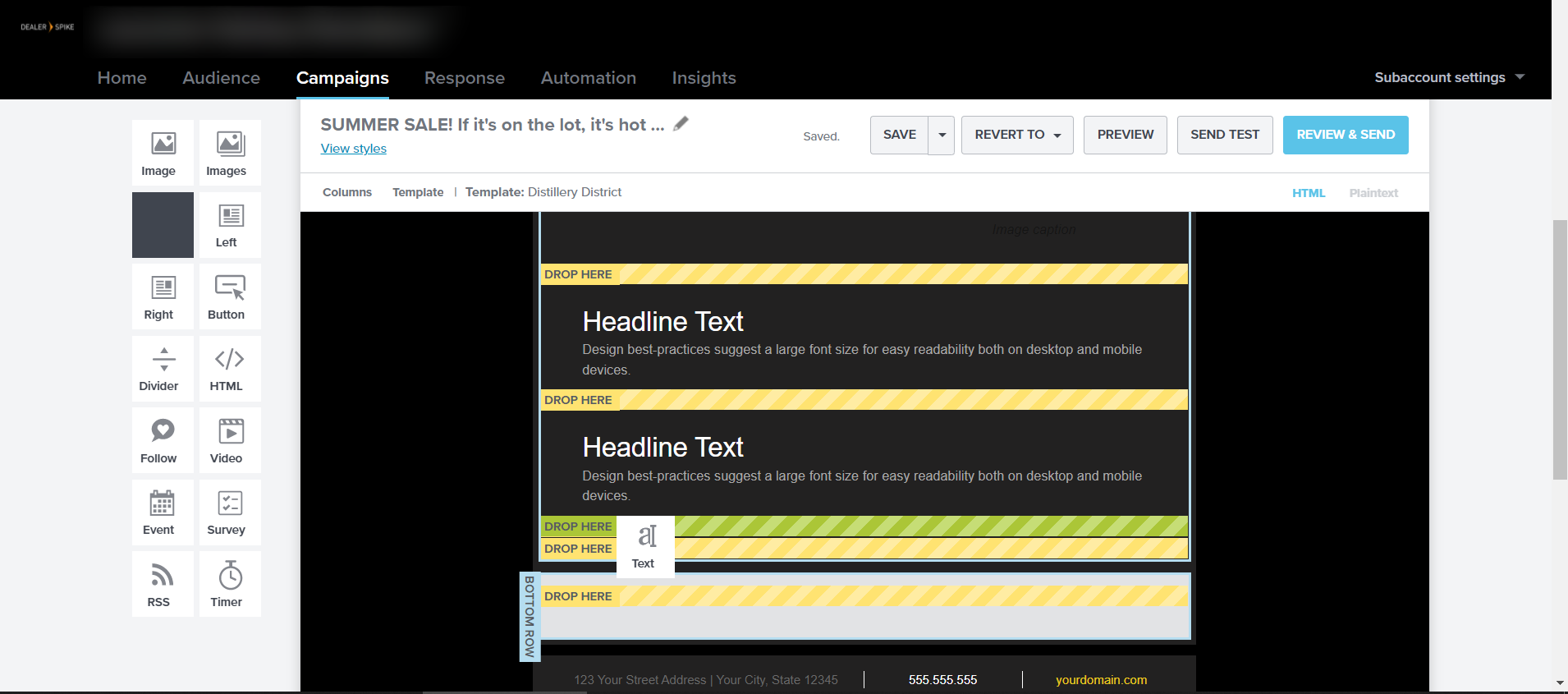 You may find the bars turn green below or off center from where you expect. If they fail to turn green move the mouse around a bit. You may be just off the mark.
To edit text, click inside the textbox. When editing text you will see the text formatting bar, allowing text links, fonts, colors, and other standard text editing options.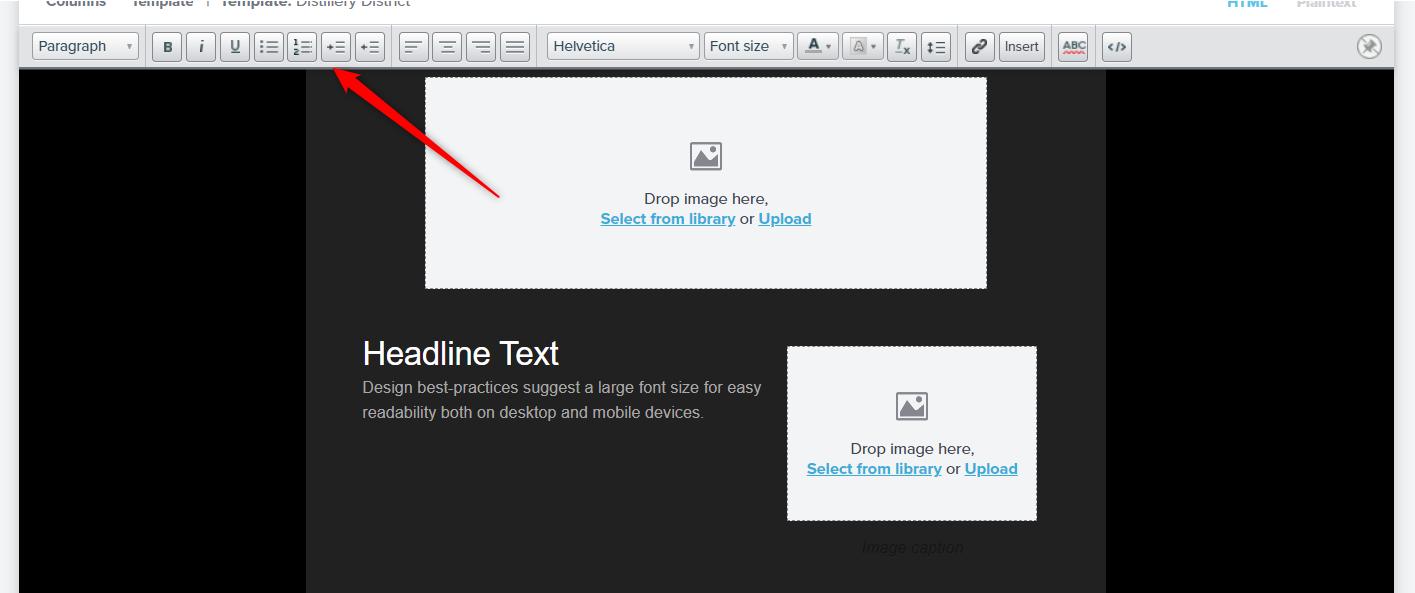 Take advantage of the Paragraph dropdown for fast and consistent formatting header and paragraph formatting.
Save your Campaign
You may save your campaign at any time for later use. You may also save a copy of an old campaign to make a new Campaign without starting from scratch.

Prepare your Newsletter to Send
Preview your Newsletter
Use the Preview Button at the top of the editing pane to simulate a few common screen sizes your newsletter will display on.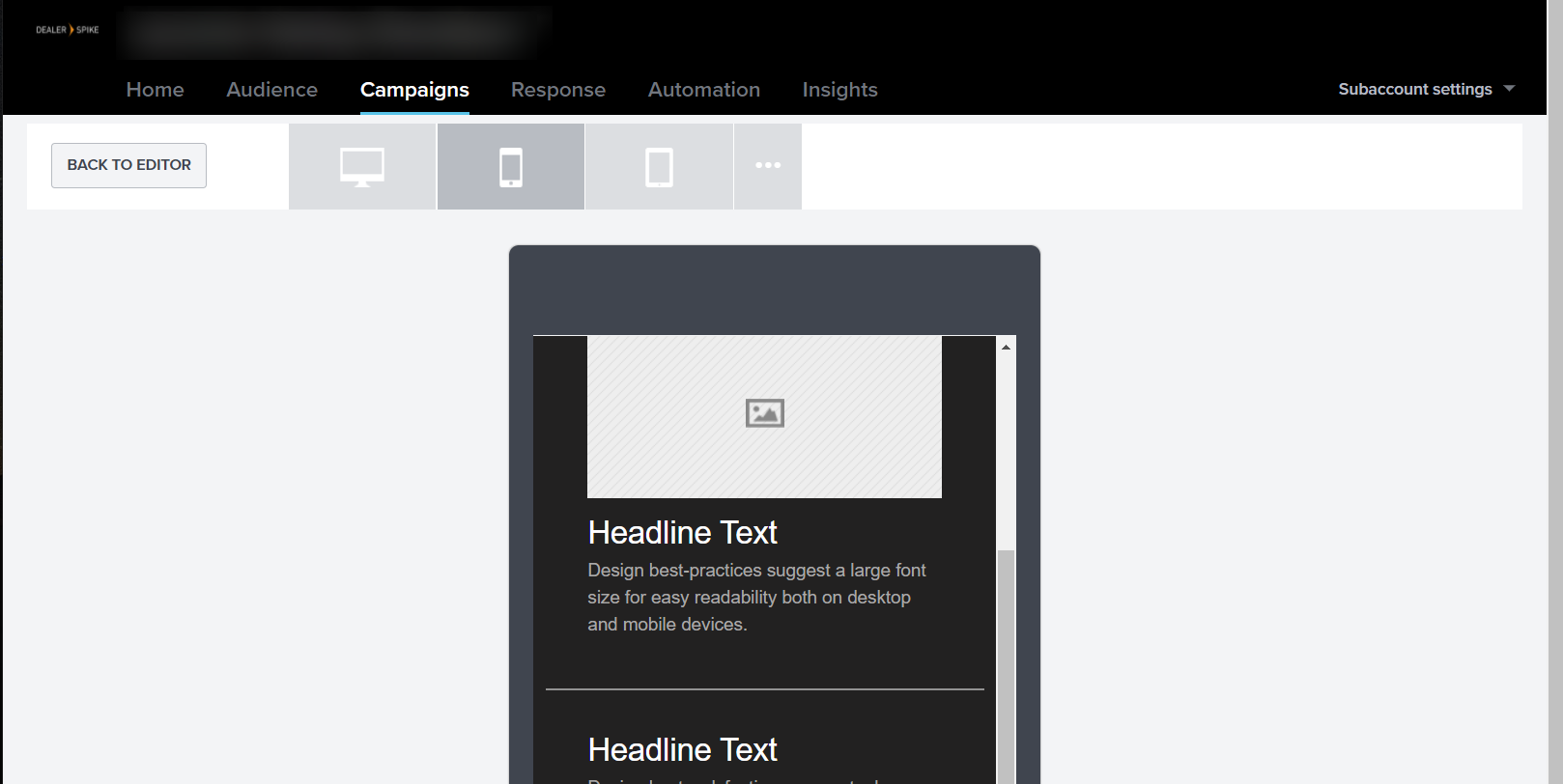 Send Test your Email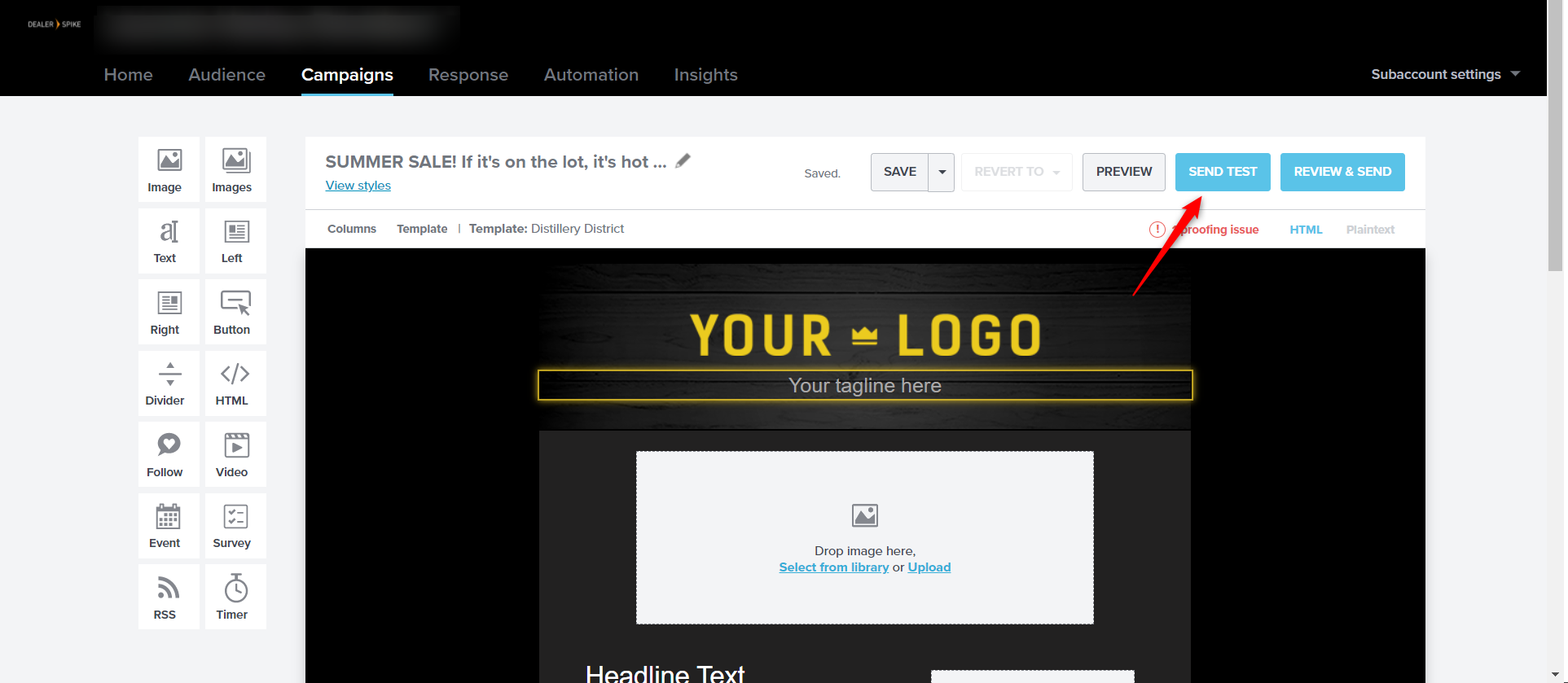 The Send test button allows test emails to up to 10 recipients from Contacts, Groups, and Segments. We recommend testing emails before live use.
Review and Send
Once you have finished editing your Newsletter click Review & Send.

The Dealerspike Newsletter tool will scan your campaign and inform you if there are any detected issues.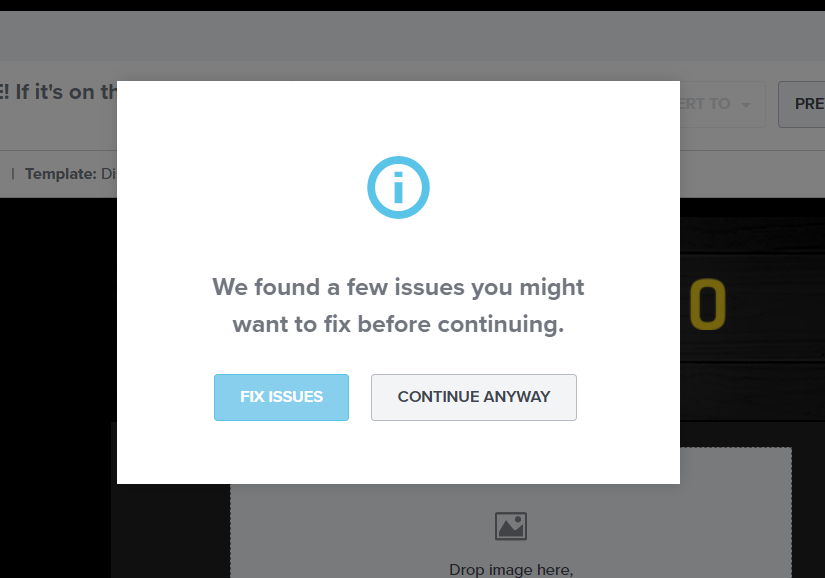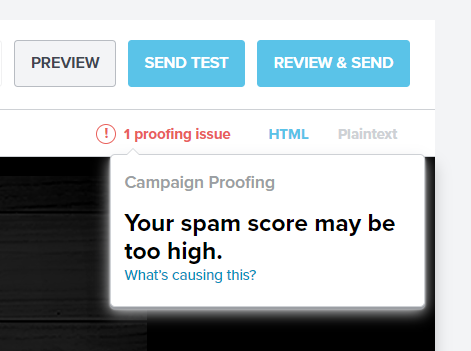 Resolve your issues or choose to continue.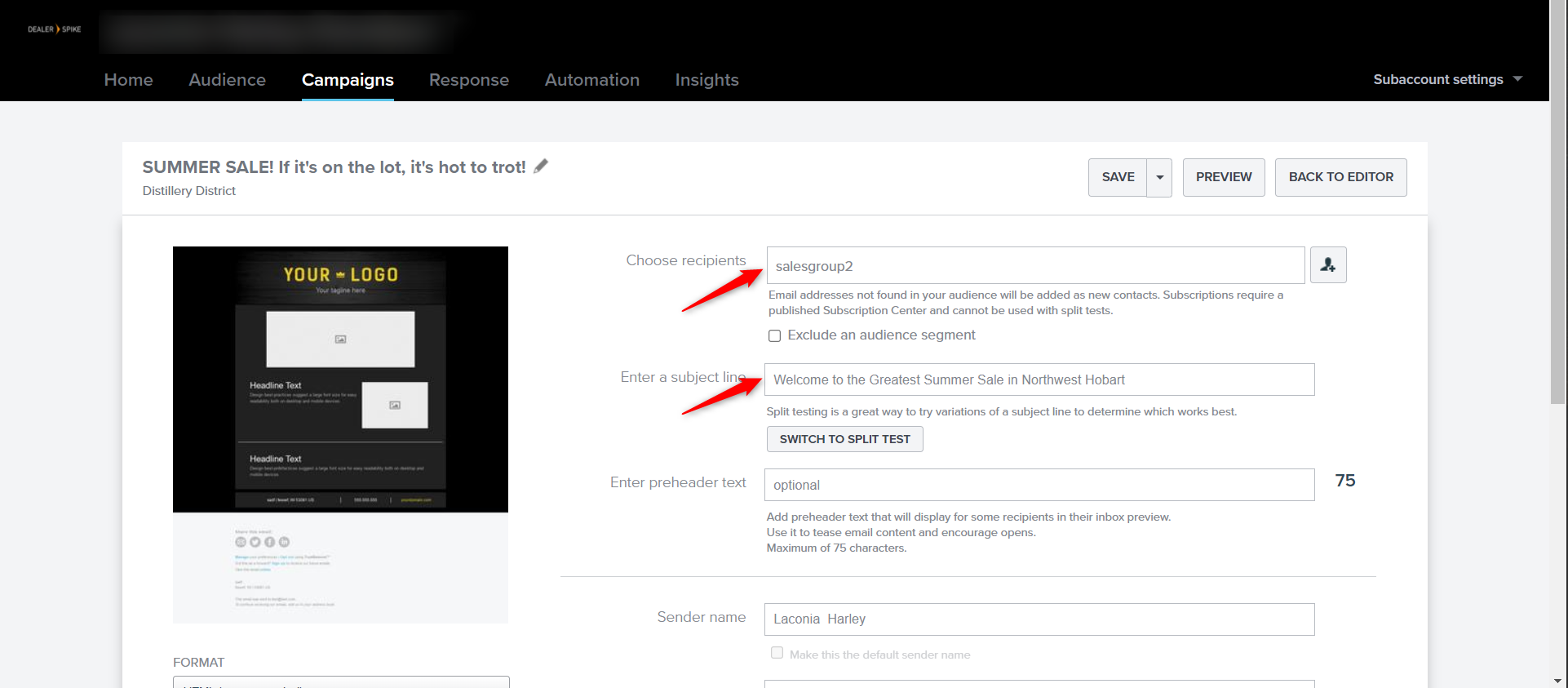 On the completed Campaign page, make sure to add a Subject Line and enter Contacts, Groups, and Segments in the "Choose recipients" field.
You may now save your Campaign or scroll to the bottom of the page and send it now or at a later date.
Tell us how to make it better.