What to Do If Your Inventory Isn't Updating
What to Do If Your Inventory Isn't Updating
Updated by Randall Theil
Estimated Reading Time: 5 Minutes
Inventory Platform: Any
When making changes to your inventory, the updated units should be visible on the customer-facing side of your site, within 5-10 minutes.  If changes aren't visible within that timeframe, further troubleshooting may be required.  This article provides some troubleshooting steps and considerations, when confronted with this issue. 
3rd-Party Inventory Feed 
If you are maintaining inventory using a third-party platform, please note that incoming and outgoing inventory feeds run once every 24 hours at approximately 12:00 AM PST -- so changes to your inventory won't appear immediately.  If 24 hours passes and you still aren't seeing the updated changes on your website from your DMS, please contact the Integration Team.  If your inventory is not exporting properly from your website to a third party listing site, please contact Auction 123.
Inventory Manager 
Make sure units are active 
If a unit you've added isn't appearing at all on the customer-facing inventory pages on your site, make sure that the updated inventory units have the Active Unit checkbox checked within the Inventory Manager.  If the Active Unit checkbox is not checked, the unit will not appear in the customer-facing inventory pages.   
V6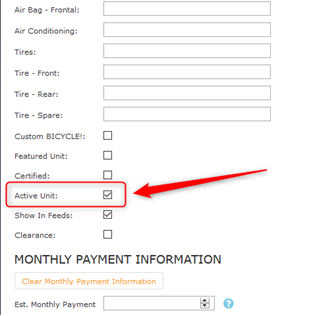 V7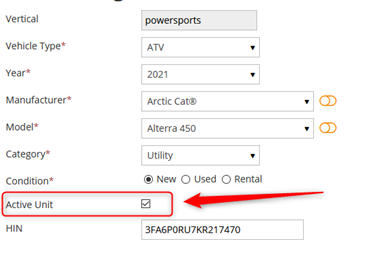 Clear the inventory cache – V6 Only 
If the units are marked active and still not displaying within the inventory pages, the next step is to flush your inventory cache.  Flushing the inventory cache simply forces the Dealer Spike platform to refresh inventory listings on the front-end of dealer websites, potentially releasing any units that aren't updating properly.   
This step only works on the V6 platform 
The best indication that you're on V6 is to check the layout of your inventory list units, or the layout of the inventory manager (see above examples).  Here are examples of each layout, within your inventory list pages: 
V6 

V7 

 To perform the inventory cache clearing, you need to add /--xallinventory?clearcache=y to the end of your website's web address.  It should look similar to the below example. 

If clearing the inventory cache doesn't update your inventory, please contact Technical Support for further assistance. 
Tell us how to make it better.
Thanks for the feedback!