Adding OEM Promotions to Your Website
Adding OEM Promotions to Your Website
Updated by Randall Theil
Estimated Reading Time: 5 Minutes
About OEM Promotions
Looking to get sales events, limited time offers, and coupon codes added to your site for free? Dealer Spike gets OEM promotions directly from supported manufacturers in both the US and Canada. New promotion releases from manufacturers update automatically and disappear on expiration.
OEM Promotions are available in two formats: full Promotional Pages or Promotional Slides that fit within existing or new requested slideshows on your home page.
The promotions pages will soon be updated with a new format that puts your manufacturer promotions on a single dynamic page located at yoursite.com/regional-promotions. Aside from the new look the page will continue to be updated with new content by the Dealer Spike Promotions team as it has been.
Promotional Pages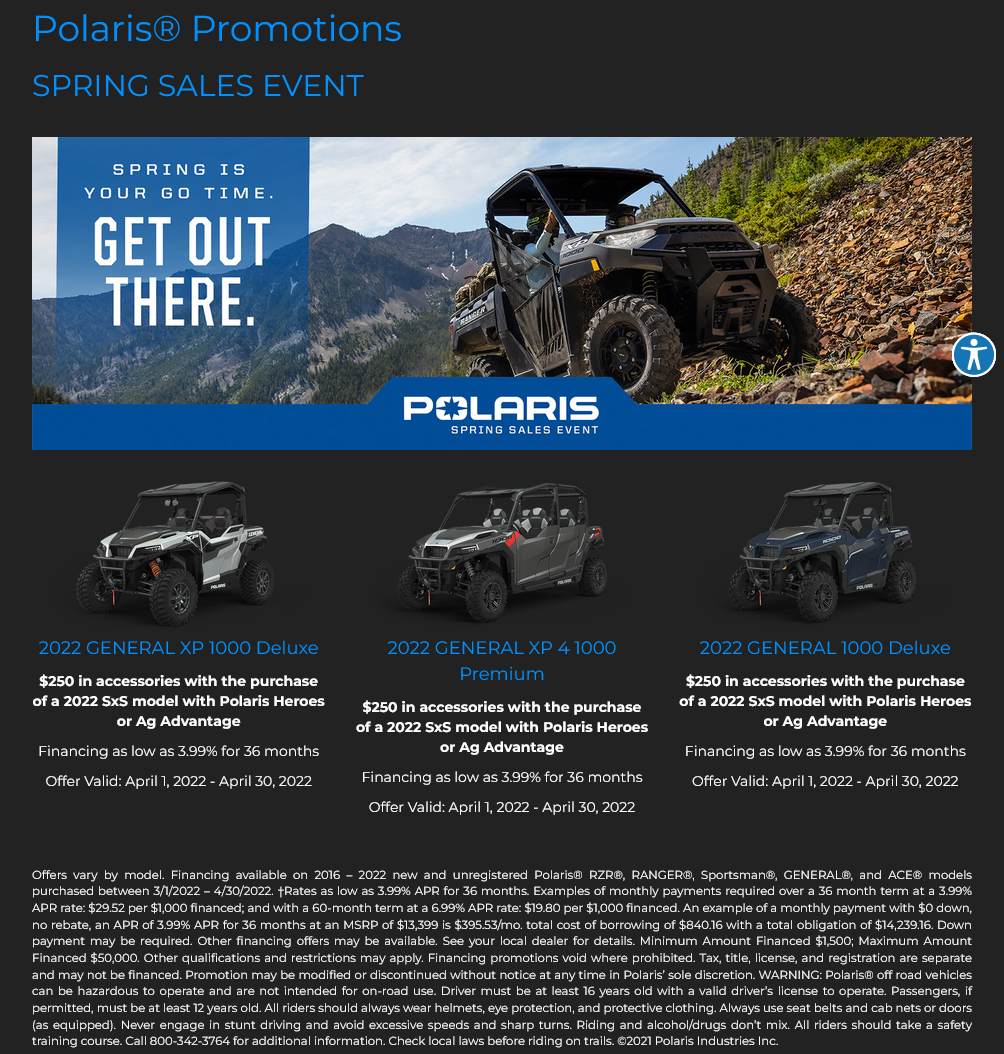 Dealer Spike can set up full Promotional Pages on your site that will automatically pull promotions from the manufacturers you want to feature. The pages will display marketing material directly from the manufacturers alongside all of the necessary information and small print. Your site will also get SEO benefits from having this content available directly on your site.
To get OEM promotions added to your site, just let your account manager know which manufacturers you want to show promotions from, what you'd like the link to the main page to be called (like "Promos" or "OEM Promotions") and where you'd like it to be placed in your site's navigation menu.
Promotional Slides

You can also get OEM promotional slides added to your site. Dealer Spike gets these slides directly from the manufacturers and formats them to fit a variety of slideshow sizes. The slides can be added to one of your existing slideshows or the Technical Support department can create a brand new slideshow somewhere on your home page just for promos. OEM Promotional slides get loaded in with metadata to help improve your site's SEO and link directly to info on the promotion they're advertising. Promotions will be set to automatically become active and inactive on the dates the promotions are set to begin and end, so you don't have to do anything.
To get OEM promotional slides added to your site, just let your account manager know what manufacturers you want to see promotional slides from, and which slideshow you'd like them to be added to. Or if you'd prefer to have a new promos slideshow added to your site, just let your account manager know where you'd like it placed and how large you'd like it to be.
Tell us how to make it better.
Thanks for the feedback!