Enhance Digital Retailing with Payment Genie
Updated by Randall Theil
This feature is currently in beta testing but will soon be available to all Dealer Spike customers. If you're interested in trying it out, reach out to your account manager for details.
Estimated Reading Time: 10 Minutes
Inventory Platform: Any
About Payment Genie
Payment Genie is a new digital retailing feature which adds shop by payment functionality to your inventory pages.
How Payment Genie Works
When deployed, the regular Get a Quote buttons on your inventory list (SRP) and detail (VDP) pages will be replaced with an Explore Purchase Options button that opens a panel where the customer can estimate payments for the vehicle based on customized lending rates for your dealership, and submit a new type of sales lead through your website.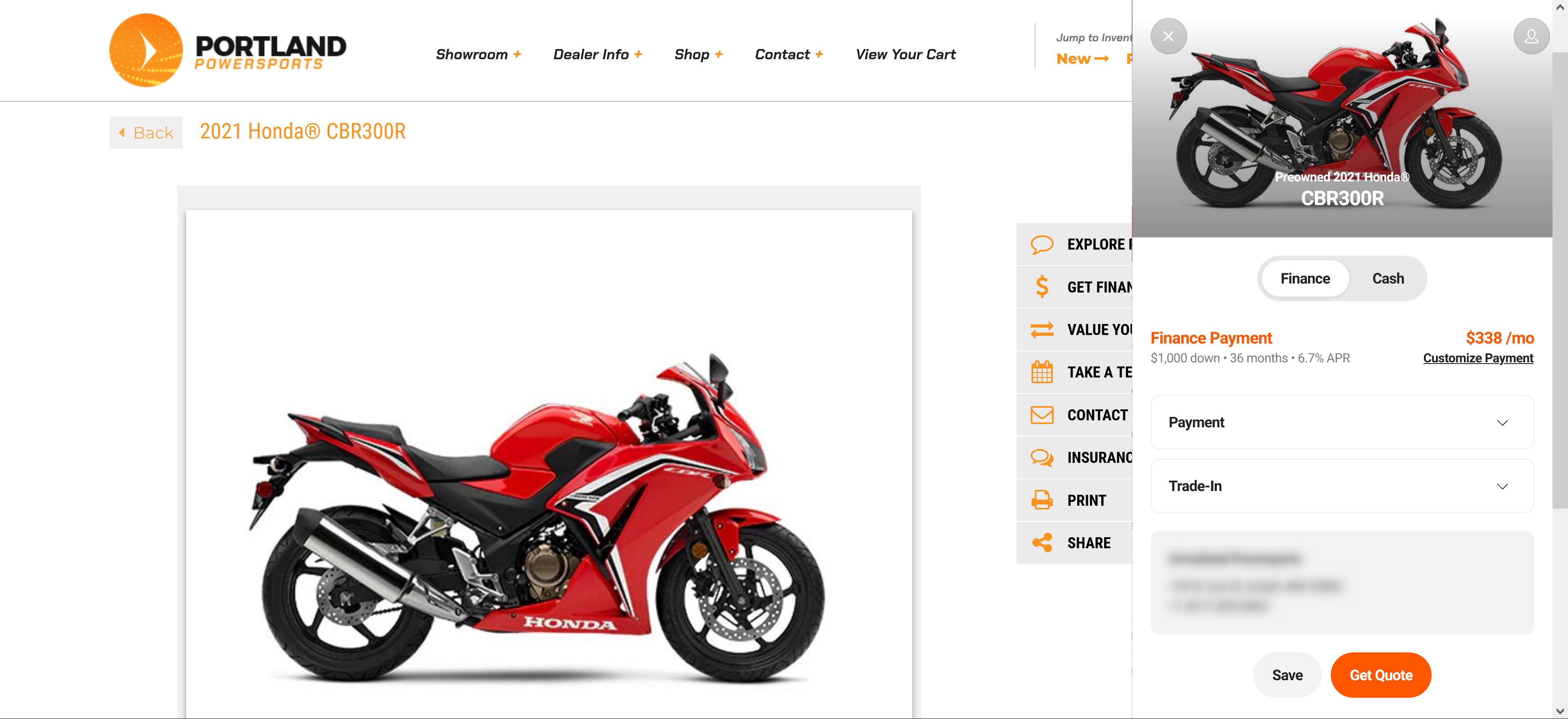 The Explore Purchase Options button will be added to any unit on your new or pre-owned inventory pages that has a selling price entered. Units without a price or that only have an MSRP will continue to show the default options.
Upon opening the side panel, shoppers will be able to select whether they want to pay for the unit with financing or cash. Units with prices below "minimum amount financed", set by you, will only show Cash.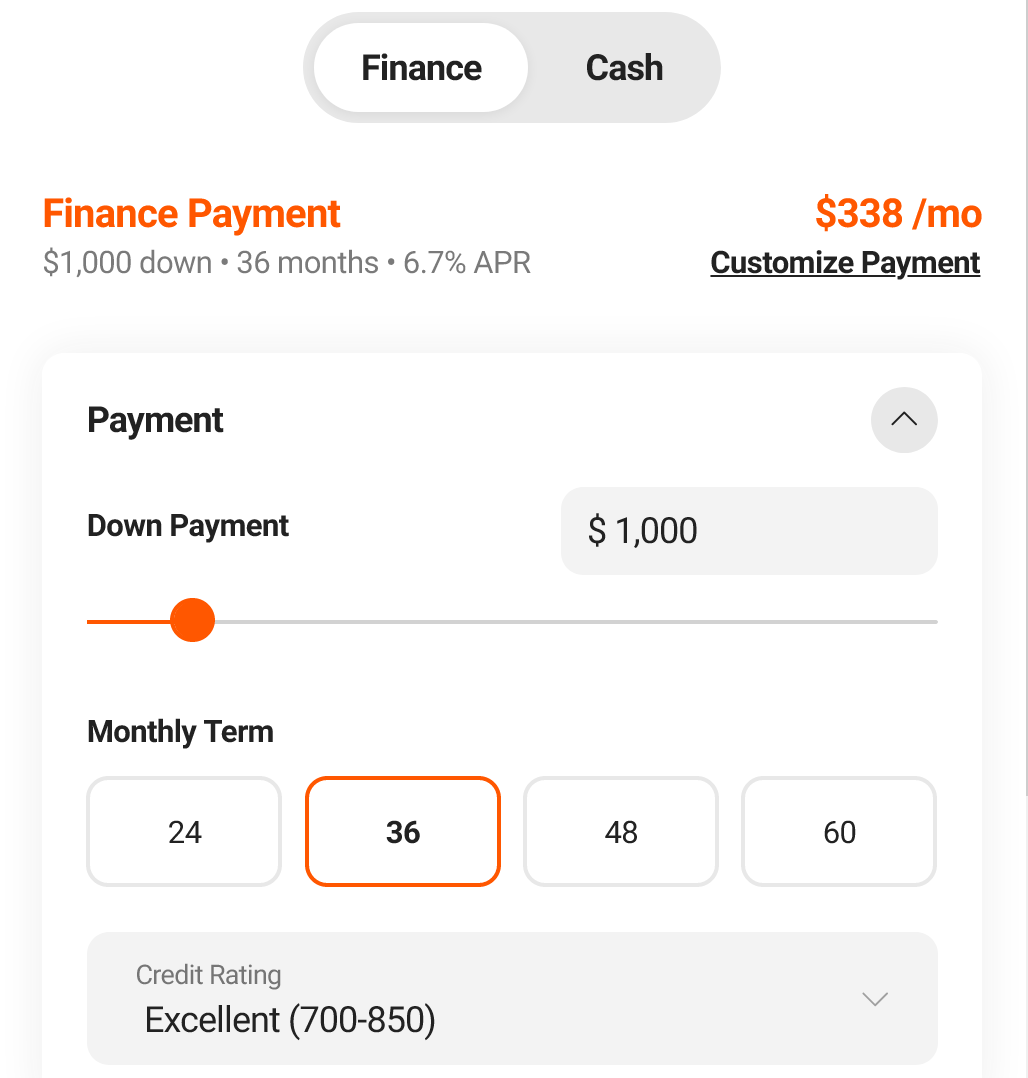 The customer will enter a down payment, a monthly term, and a credit rating range, and then get a monthly payment estimation based on custom interest rate information from your dealership's lending partners. See below for more information on customizing interest rate / APR.
After filling out and submitting the digital retailing form, shoppers will receive an autoresponder email from your website letting them know you've received their information and will reach out to them shortly to set up a viewing for the unit.  
Leads and Email Notifications
When the Payment Genie form is submitted you'll receive a lead with the DigitalRetailing lead type through email, your site's admin panel, and third party CRMs containing customer information, entered payment calculation information, and the calculated monthly payment.
To change where email notifications are sent:
Log into your site's admin panel. For more information on logging in, click here.
Go to Leads -> Email Settings from the top navigation bar.

Scroll down until you see the Digitalretailing field. Any email addresses listed here will receive leads when customers submit your Payment Genie form. If there aren't any listed here, leads will be emailed to the people listed under General. If you don't see a Digitalretailing field in your Email and Leads Settings page, contact Technical Support to have it added.
Customizing Lending Rates
Once Payment Genie is available on your website, configuring the shown lending rates is simple and easy. Just send the below to your account manager:
Official rate sheet documents from one or more of your lending partners. You can have different lending partners for each of your verticals (example: powersports, marine, road-going motorcycles, or RV), but only one per vertical.
Let us know if you want to use different rates for subsets of products within verticals, like on-road motorcycles vs general powersports.
Rate sheets must be official documents from lenders. Dealer Spike cannot update interest rates without official lender documents. Please send the whole document, not a screenshot.
Customized, up-to-date interest rate information is preferable, but Dealer Spike does offer default APRs based on national lending rates. This allows dealers to provide payment estimates even without providing lending rate sheets.
Troubleshooting
Why isn't the Explore Purchase Options button showing up on my units?
Units must have a price entered. Units without a price or that only have an MSRP entered will continue showing the regular inventory call-to-action options.
Payment Genie only works on your regular live inventory pages (all, new, pre-owned, clearance, consignment, and custom). Showroom units don't have selling prices and won't use the feature.
A unit is not in a vertical recognized by Payment Genie.
A unit is below the listed minimum financing value or above the listed maximum financing value: this may show the Payment Genie button, but only allow the Cash setting.
Payment Genie is not activated on this account. Please contact your Web Representative.
Tell us how to make it better.