Managing Multi-Location and Multi-Site Inventory
Updated by Randall Theil
Estimated Reading Time: 15 Minutes
Required Permissions: Inventory
Inventory Platform: Any
Inventory can be split up by location in one of two ways:
Each location has its own website and manages its inventory and units from each website are shared.
Customers can see units from each location on any of the sites (multi-site inventory).
The inventory is all managed from a single website and the units all appear together.
Inventory are filterable by location, which is managed from the Admin Panel (multi-location inventory).
This article will show off the differences between the two and how to manage your inventory from either perspective.
Differences Between Multi-Site and Multi-Location Inventory
On the customer-facing side of the website, multi-site and multi-location inventory setups look very similar. On V7 sites both setups will add a Location checkbox section to the filters menu on the left. On V6 sites it will be a location dropdown at the top of the page.


The units themselves will also have a field that shows which location they're from or set to with both set-ups. The major differences between multi-location and multi-site inventory are on the back end. With multi-site inventory, if you'd like to add a unit to a location or change an existing unit, you have to go into that location's site's Admin Panel and change the unit there. By default users from other sites won't be able to touch units from other websites.
Making Changes to Multi-Location Inventory
With multi-location inventory, everything is assigned manually from the single site's Admin Panel inside the Inventory Manager page: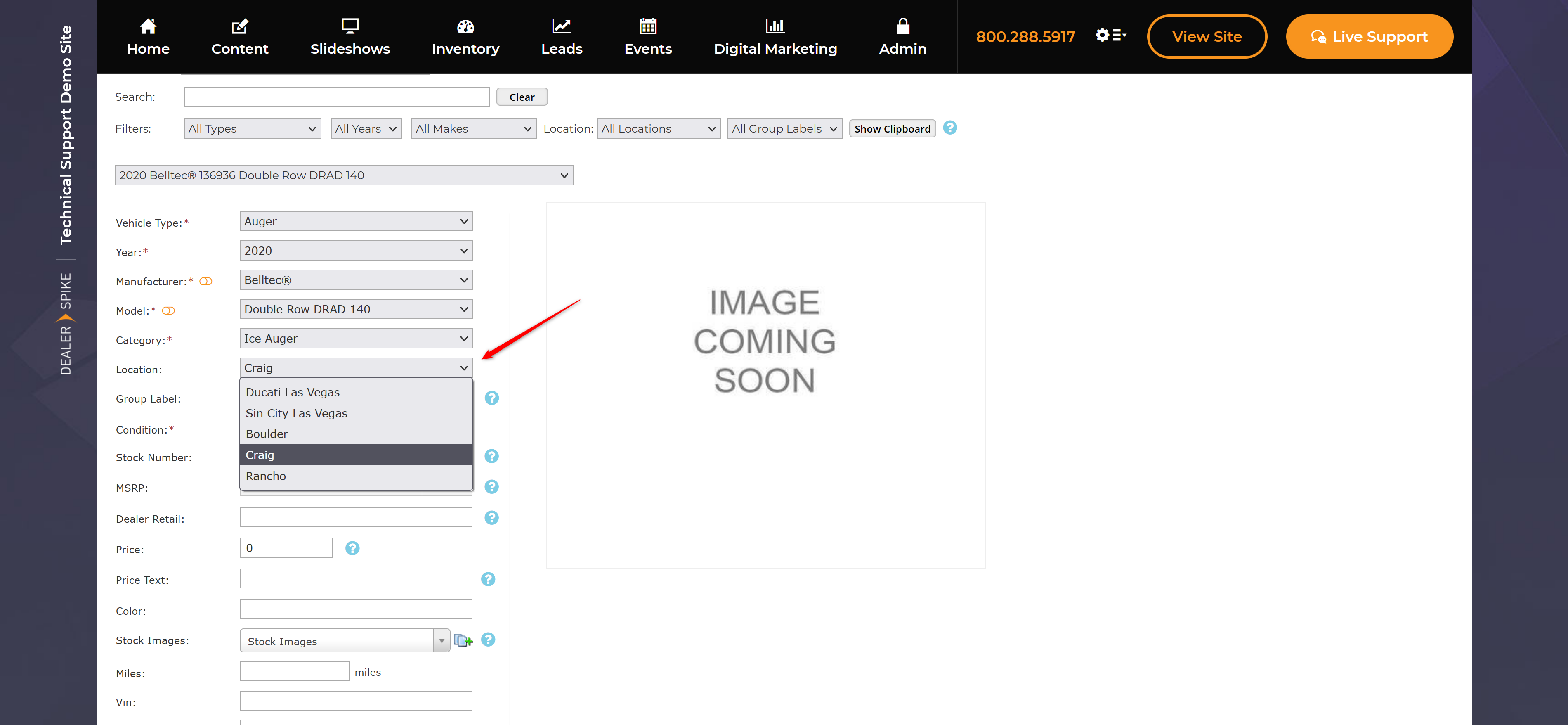 When you click into the Location field for a unit on a multi-location site, you'll be able to assign a location to the unit from the available options added to the site. If you'd like to add a new location, or remove or change the name of an existing location, you'll have to reach out to Technical Support.
Technical Support can add and remove location options from the Location list for multi-location sites, but that won't automatically re-assign units that were set to the old location. In order to get the removed location off of your customer-facing inventory pages, you'll have to go in to the units that were assigned to the old location and switch them to a new one.
Making Changes to Multi-Site Inventory
Location assignment for units on multi-site inventory setups is automatic based on what site the unit originates from. A unit that was added on stlouispowersports.com might come in with a St. Louis location, for example, and removing it from there and adding it to kansascityrecreation.com could change the location name to Kansas City if that's what's been set up for that site. Changes to multi-site inventory setups (adding and removing sites, changing location names, or changing other customization options) are handled by the Feeds team, but you can also reach out to regular Technical Support to get the ball rolling on those. Here are some of the customizations that can be requested for multi-site inventory setups:
New units and / or units from particular manufacturers can be withheld from the shared inventory setup (example: losangelesmotorcycle.com and sandiegocycle.com are sharing inventory, but losangelesmotorcycle.com is allowed to advertise new units from a certain manufacturer and sandiegocycle.com can't. The multi-site integration can be set up to only share used units or only used units for that manufacturer to protect the dealership from getting in trouble with the manufacturer).
When a user clicks on a unit from a location other than the site they're currently browsing on, the link can be set to open either on the current site so the user doesn't get shifted around, or it can be opened on the actual site the unit was added from (example: a user browsing ftworthrvs.com clicks on a unit that was added from jacksonvilletrailers.com. The vehicle detail page that opens can be from either site).
When a user fills out an inquiry form for a unit with a location set on it, the user also gets to pick a location on the form (example: a user clicks on the Get a Quote form for a car with a location of washingtonauto.com, but they choose the Richmond location when they fill out the form). The lead from the form can be sent to either the location the user filled out or the location that was originally set on the unit (this is the default behavior).
Tell us how to make it better.