Managing Inventory Display Order
Managing Inventory Display Order
Updated by Randall Theil
Estimated Reading Time: 10 Minutes
Required Permissions: Inventory
Inventory Platform: Any
Log into your site's admin panel.
Go to the Inventory Grid page from the Inventory dropdown at the top of the screen.
To change display order on a unit, click the DisplayOrder column next to a unit and choose a number from the dropdown. Lower numbers appear before higher numbers, and units can have the same number set.
After selecting a number, click the Save button to save that display order on the unit.
Display Order is a feature that lets you override the default sorting behavior on your inventory pages with custom ordering. This page will show you how to control display order and explain how it works.
How Display Order Works
Display Order is controlled by setting numbers on units from the Inventory Grid page in the site's admin panel.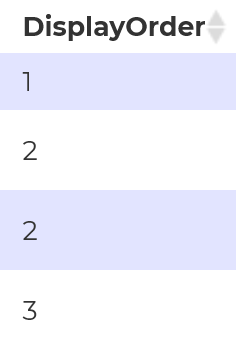 You don't have to assign numbers to every unit in your inventory, just the units you'd like to bring up to the top of your inventory pages. Units with lower numbers will show up first, and you can assign the same number to multiple units. If two units have the same number (like 2 from the image above), those units will be sorted according to the default sorting system (model year from newest to oldest, then manufacturer name, then model name).
Display Order only works on inventory pages using default sorting. If you have an inventory page with a custom sorting option already applied (the address might look like this example URL: https://www.examplesite.com/--inventory?sortby=Make|asc), then Display Order won't have an effect on that page. If the customer applies a sorting option using the on-page dropdown, that will also clear Display Order until they leave the page.
Setting Display Order on Units
Start by signing into your site's admin panel. If you need instructions on signing in, click here.
Display order can only be managed from the Inventory Grid page. To get there, click on the Inventory tab at the top of the admin panel, and then on the Inventory Grid button from the panel that slides down.

Once you arrive on the Inventory Grid page, you should see a column labelled DisplayOrder on the right side of the page. This is where Display Order is controlled. If you don't see this column on your Inventory Grid page, Technical Support may need to enable it for you. See this page for more information on contacting Technical Support.

When you click on the DisplayOrder column next to a unit, you'll see a dropdown that lets you assign a number to that unit. See the How Display Order Works section for more info on assigning numbers to units. After you've set a number on a unit, make sure to hit the Save button before leaving the page.
Tell us how to make it better.
Thanks for the feedback!