How to configure Authorize.net for checkout
How to configure Authorize.net for checkout
Updated by Patrick Mares
Authorize.net provides payment processing and payment management services to help businesses accept credit card and e-check payments online. Other payment gateway options include Stripe and Paypal.
This article documents Ecommerce management systems. If you need instructions on accessing Ecommerce,
click here.
Proceed to your Authorize.net account home page. On the left-hand menu under Account, select Settings.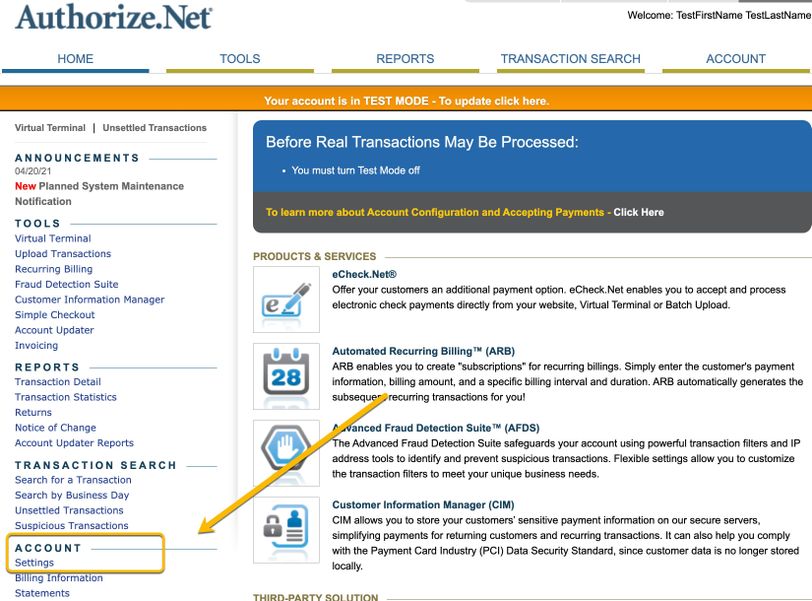 Under Security Settings > General Security Settings there are two links that you need to visit to retrieve information:

Manage Public Client Key: This page shows you the Authorize.net Public Client Key which is referred to as the Client Key.
API Credentials & Keys: this page shows you the Authorize.net Login ID as API Login ID. The Authorize.net Transaction Key is only shown when you create it. You can create a new Transaction Key at the bottom of the page.
Creating a new Transaction Key will invalidate the any existing Transaction Key.
A Signature Key will not work with this integration. Be sure to create a Transaction Key and NOT a Signature Key.
In Ecommerce go to Settings > Webstore and scroll down to Credit Card Gateway.

Select Authorize.net from the Gateway Provider dropdown.
If you are testing, you may leave Test Mode checked. Otherwise click to de-select Test Mode.
Enter the items from your Authorize.net account home in the corresponding fields:

Authorize.net Login ID/API Login ID
Authorize.net Public Client Key/Client Key
Authorize.net Transaction Key/Transaction Key

Click Save to activate the integration.
Troubleshooting
If transactions fail to process:
Make sure you are using a Transaction Key, and not a Signature Key from Authorize.net (you may have to create a new key to confirm this).
Check Authorize.net information fields for spaces before and after the data.
Check Authorize.net information fields match Authorize.net information exactly, especially if typed and not pasted.
Confirm your Authorize.net account is fully activated and in good standing. Missed payments may stop Authorize.net service.
If transactions indicate success but fail to process in Authorize.net:
Confirm test mode is not checked.
If a transaction is marked failed from Ecommerce but succeeds in Authorize.net:
Authorize.net must complete a handshake process before payments are accepted in Ecommerce. If connection is interrupted before the handshake is confirmed by Ecommerce it may be marked as failed despite succeeding in Authorize.net.
Tell us how to make it better.
Thanks for the feedback!