Contacting Technical Support
Contacting Technical Support
Estimated Reading Time: 3 Minutes
Dealer Spike's Technical Support Department is available to help you make changes to your site, investigate issues, and answer technical questions related to your Dealer Spike website and other products. You can contact Technical Support in one of the following ways: 
By Phone: Call Technical Support at (800)288-5917 and enter extension 200 at the prompt. See below for hours of availability. 
By Email: Send an email to Technical Support at the email address support@dealerspike.com. In the email be sure to include your website address and Dealership ID if possible so we can more easily assist you. 
By Chat: Chat with Technical Support by logging into your admin panel and clicking the Live Support button at the upper right of your screen. Once the Live Chat window opens fill out the required fields and click Submit at which point it will connect you with a live technical support agent.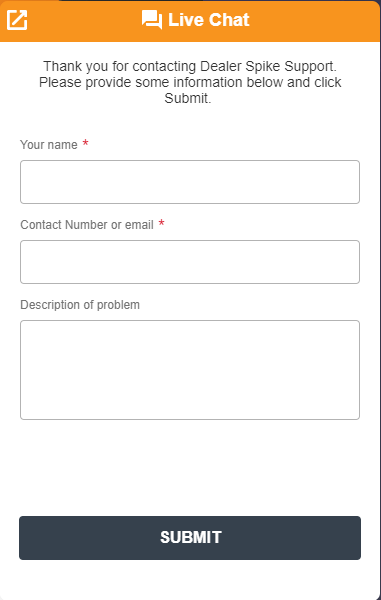 If you would like to reach a specific agent by phone to speak about an existing case you may call the technical support department and request to speak to them. Have your case number handy for the technical support agent – you may find the case number which begins with "CAS-" in your case confirmation email which you should have received when the case was originally opened. 
 Hours of Operation
You can always send Technical Support an email or call in and leave a voicemail, but if you need to speak with a live agent, here are our hours of operation:
Tell us how to make it better.
Thanks for the feedback!