Ecommerce Products, Product Groups, Categories and Catalogs
Updated by Patrick Mares
What are Products and Product Groups?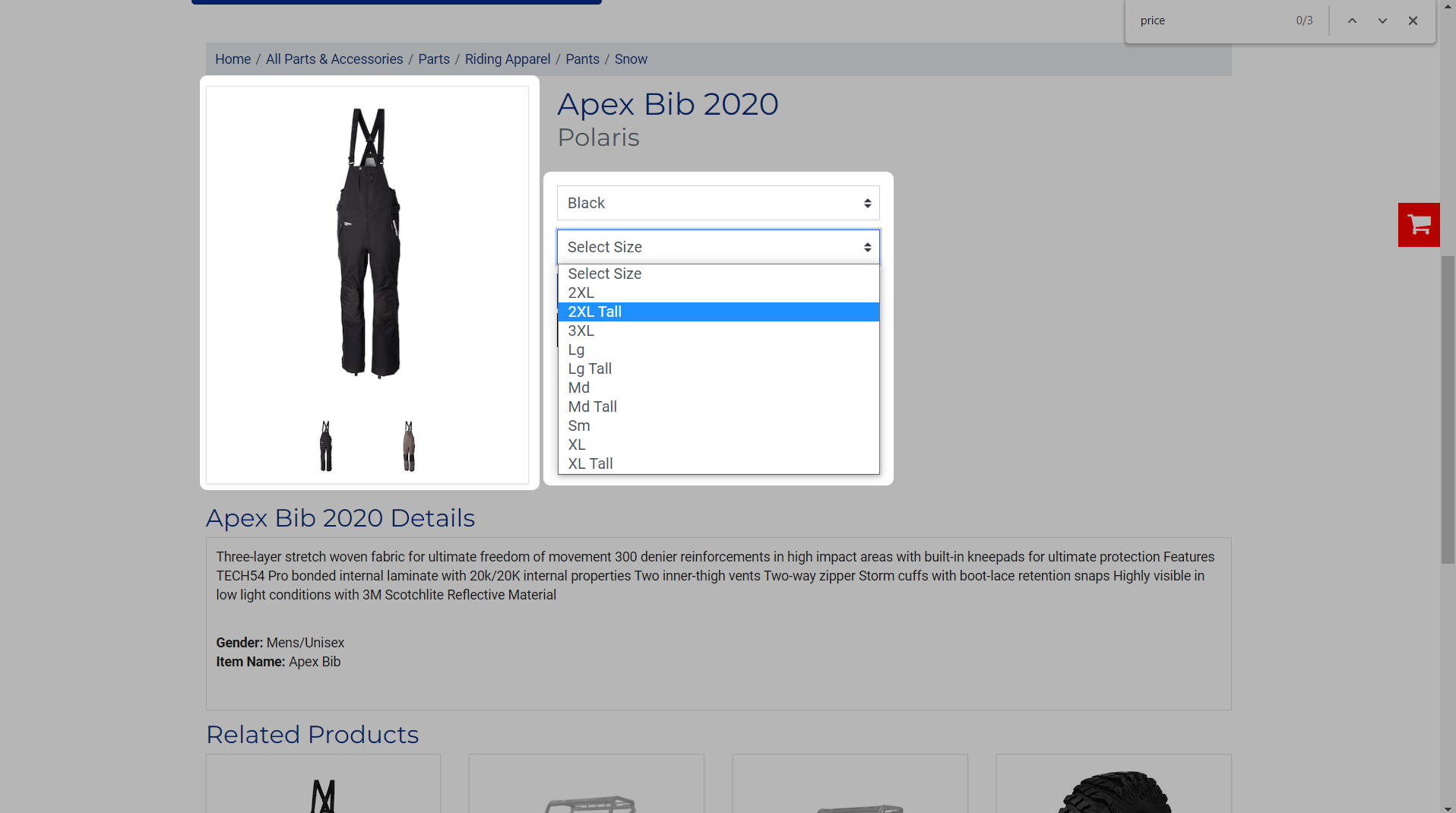 An Ecommerce Product represents a precise item that can be bought, with a unique Manufacturer Part Number (MPN) or SKU. Products have attributes such as size, color, and option. You might see Products called variants or sizes on other ecommerce platforms.
Individual products display on the Product Group webstore pages with drop-downs menus or attribute selectors. Each color and size combination in the above image represents one Product.
An example of a Product is the Arai Signet-X Shockwave Helmet, Color: Black Frost, Size: XL, MPN: 68531117213.
An Ecommerce webstore listing is called a Product Group. A Product Group may contain one or more Products with slight variations. The above image contains one webstore listing. Each webstore listing is a single Product Group.
An example of a Product Group is the Arai Signet-X Shockwave Helmet.
In short:
A Product is an MPN. There is only one MPN per product.
A Product Group is all the different variations of a single product in one webstore listing.  There are typically multiple Products with unique MPNs in a Product Group.
Products and Product Groups in Ecommerce management
Products
If you select Catalogs and choose a catalog in your Ecommerce management interface you will see a list of Products.

The above image contains only Products in one Product Group. The Product Group name in the Name field is the same in each row. However each Product row has a unique MPN and may have different Size, Color and Option fields. 
Product Groups

Entries within Webstore > Products represent entire Product Groups.
You may see Products used as a shorthand for Products in Product Groups. Any time you edit the entire webstore listing you are working with a Product Group.
What are Categories?
Categories are the organization shown to customers on your webstore. Aftermarket Categories are automatically created and automatically mapped to Product Groups, though you can override these mappings. Private Catalogs require manual Category management. OEM catalogs do not allow Category management.
Ecommerce system Categories give order to a webstore shopping experience and help make it easier for a shopper to find what he or she is looking for. An example of a category is "Casual Wear". Or "Seats". These categories can also have sub-categories, for instance:
Casual Wear > Gloves
Seats > Seat Covers
Product Groups are listed or "mapped" to Categories.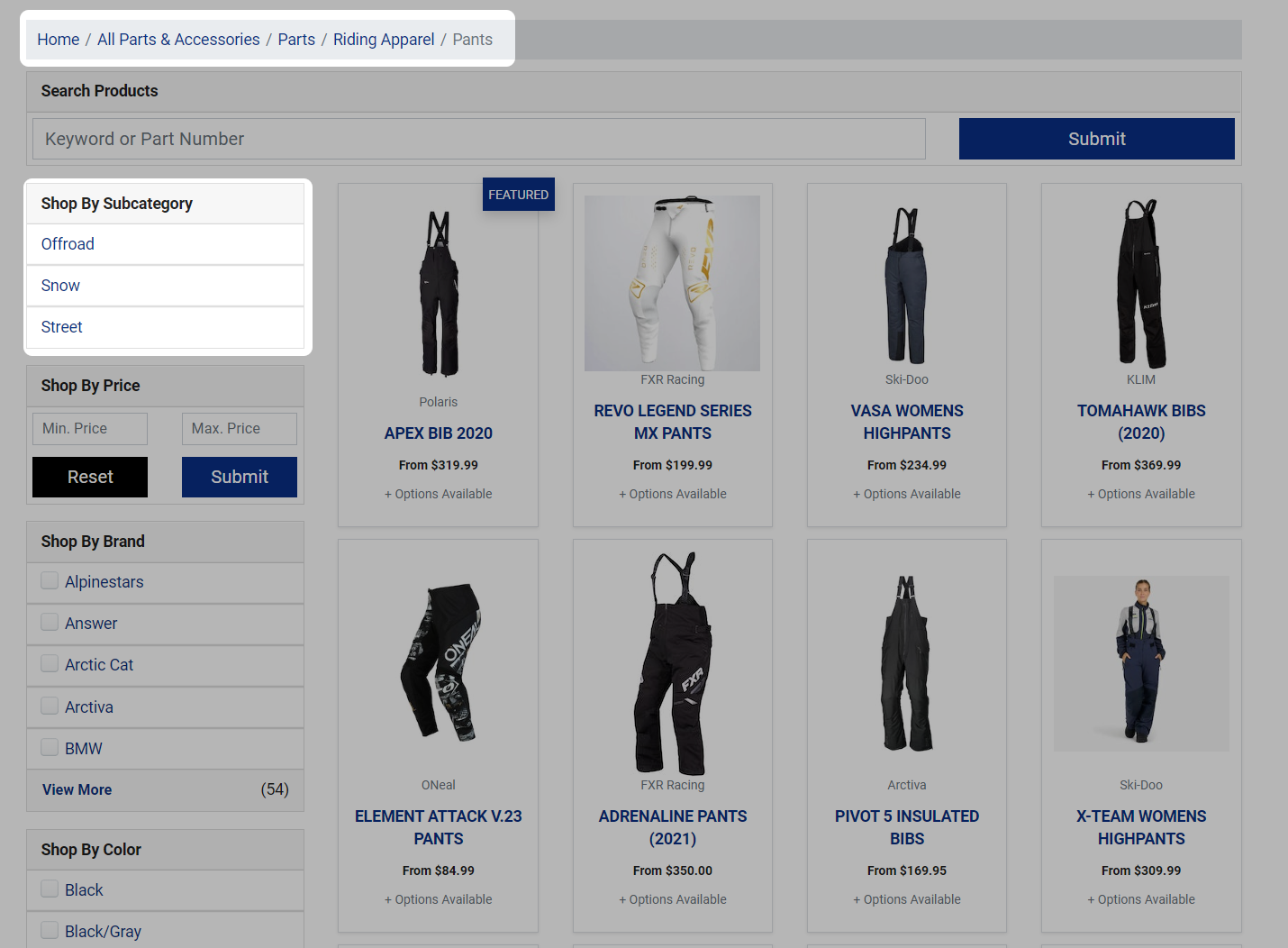 In the above example the full Category path for the shown Category is: Home / All Parts & Accessories / Parts / Riding Apparel / Pants.
Home: This is the dealer site hosting the webstore.
All Parts & Accessories: This links to Ecommerce.
Parts: Parts is the top level Category under Ecommerce.
Riding Apparel: Riding Apparel is the child Category of Parts and the parent Category of Pants
Pants: Pants is the child Category of Riding Apparel and the Category currently being viewed.
The Pants Category contains three subcategories: Offroad, Snow and Street that can be seen within the Shop by Subcategory box on the left. Ecommerce allows searching by other attributes including, brand, size, gender, and more: but these are not Categories.
If you change the Category for one Product in a Catalog the entire Product Group will be moved.
Putting private catalog products in categories with aftermarket products can lead to data loss when updates are processed for those aftermarket products. For this reason we recommend using custom categories for your private catalog products. For more information, see
this article
.
What are Catalogs?
Catalogs are bundles of Product and Product Group information for your Ecommerce webstore. There are three Ecommerce Catalog types: Aftermarket, OEM and Private Catalogs.
Once Products from a Catalog are added to Ecommerce they can be found by selecting Catalog and the appropriate Catalog type (Aftermarket, OEM, Private). Manufacturer Names are associated with all Products and can be used for search on the Webstore and within Ecommerce management. Manufacturer Name can also be found in the Group Manufacturer Name field for Product Groups under Webstore > Products.
Where does Catalog information come from?
Where are Product Groups from each Catalog type listed on my Webstore?
Private and Aftermarket Product Groups show within the same Categories in your Ecommerce Shop.

OEM catalog replacement parts show within your Parts Finder on the Webstore.
Tell us how to make it better.