Changing the About Us Statement on the Home Page
Changing the About Us Statement on the Home Page
Updated by Randall Theil
Estimated Reading Time: 5 Minutes
Required Permissions: Snippet
Log into your site's admin panel.
Click the Content tab at the top of the page, then the Content Snippets button.
Click on the Select Content to Edit dropdown and select page:landing | Content1.
Click the Edit button and make your changes to the text inside the snippet. Then click the Save button.
The About Us statement on your website homepage is an important piece of content that introduces your business to site visitors, includes text search engines will associate with your homepage, and links to your full "About Us" or "Info" page.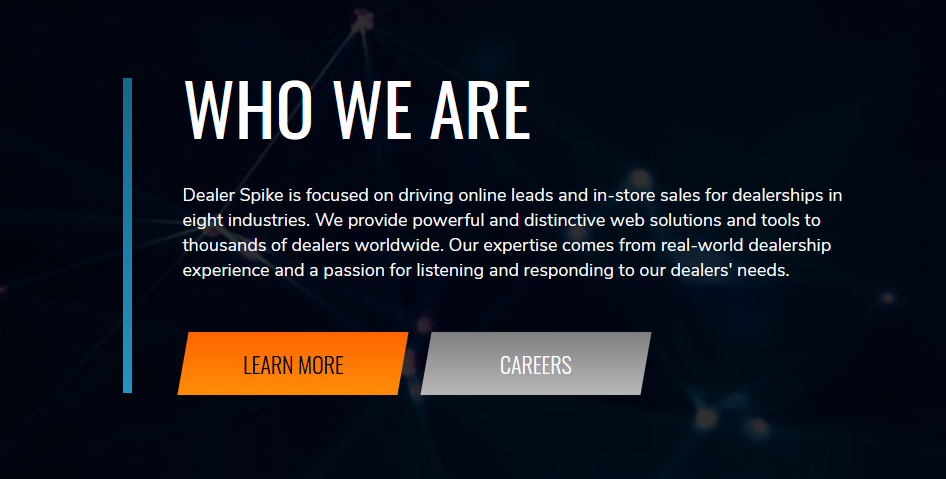 Over time you may find that you need to change this piece of content with new or updated information. This article will teach you how to edit the About Us statement quickly and easily. You will need access to an Admin Panel login with the Snippet permission. 
Start by signing into your site's Admin Panel. If you need instructions on signing in, click here.
After signing in, click on the Content tab then select the Content Snippets option. 

Once on the Dealer Content Snippet Editor page in the Admin Panel, click the Select Content to Edit dropdown menu. 

Find "Page: landing" In the list of options that appear and click the Content1 entry. Then click Edit. If you don't see Content1 in your dropdown, Technical Support may need to add it for you before you can edit this. See Contacting Technical Support.

Here you can edit the About Us statement. The editor provides three formatting options above the text field: bold, italics, and strike-through. The editor also allows you to use HTML tags such as an <a> tag to add a link to your text. Please be careful when doing so as incomplete tags could impact styles and formatting elsewhere on the website. 

Lastly, click the save button in the bottom right. 

Done! 
Tell us how to make it better.
Thanks for the feedback!