Changing Your Billing Information
Changing Your Billing Information
Updated by Randall Theil
Have a question about a line on your bill, or need a copy of one of your invoices instead? You can always start by talking to your account manager, but if you'd like to reach out to our billing department directly you can send an email to billing@leadventure.com or give us a call at 1-877-373-1173.

If you call, you may be asked to leave a message and callback number, but we'll do our best to get back to you as soon as possible.
Estimated Reading Time: 5 Minutes
Reach out to your account manager.
Fill out the online form in the link they send you.
Looking to update your payment method on file? This article will show you where to go to get your billing information updated.
Updating Your Payment Method
Dealer Spike is now using a system known as Paystand to process payments. If you have a recent Dealer Spike invoice, there should be a link on the invoice to the web form to update your payment info (look for "To update your existing payment method, please Click Here and enter the details of the payment method you would prefer touse for recurring payments." below the main section.) If you don't have a recent invoice handy, you'll have to reach out to your account manager and let them know you need to change your payment method. Your account manager will access our records system and send you a personalized link to a web form where you can enter your new payment information. Dealer Spike accepts automated payments via ACH (checking account) or credit card.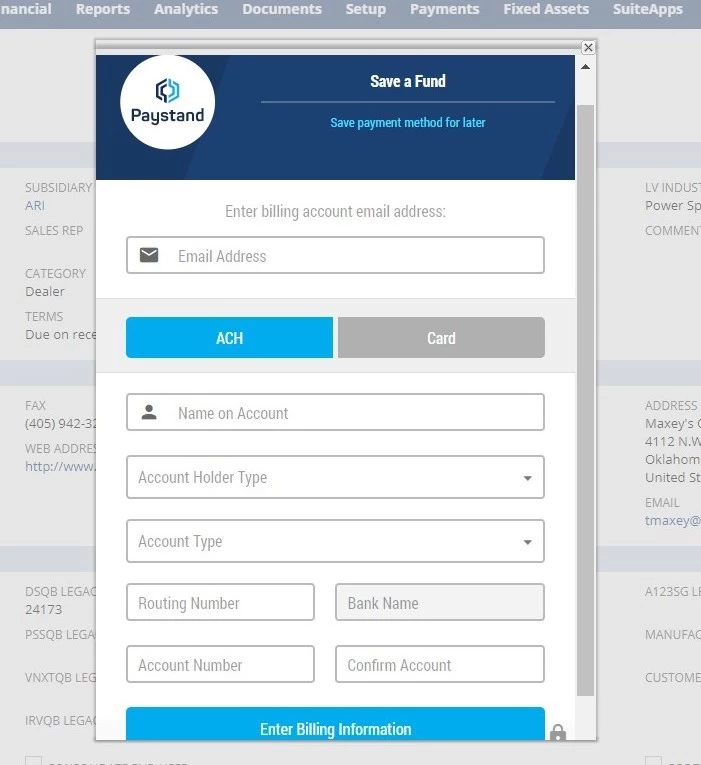 Please don't put any sensitive payment information (card info, account routing numbers, etc) directly into emails to your account manager or our billing department. While our email system is secure, we want to keep exposure of sensitive info to a minimum. Just let us know you need to update your payment info and we'll send you a link to a secure site instead.
Since we switched to Paystand, our old web form for updating billing information is no longer valid, so if you have it bookmarked, it should be safe to remove it.
Tell us how to make it better.
Thanks for the feedback!