Basic DNS Information for Your Website & Email Domain
Updated by Randall Theil
Estimated Reading Time: 10 Minutes
DNS, the Domain Name System, acts like a phone book for the internet. When your customers type your website url (ie. example.com) into their browsers and hit enter, the DNS records set on your domain control what content gets served to their device. Incorrect DNS records can cause a site to show the wrong content or go down entirely. If you fail to renew your domain on time, your website could go down.
If Dealer Spike is managing your domain, you shouldn't ever have to worry about renewals or record problems, but if you're managing your own domain, you'll need to keep an eye on your domain renewals. This article will run down some basic information about DNS records and changing DNS records as well as how to access and see your website's publicly reported records.
Trying to find if your domain has expired and who you need to contact to bring it back up? Put your website's full URL into
https://who.is
and look for the registrar information. See the next section for more details.
Looking Up Your Domain's Information
For Your Website
Your website's DNS information is public and you can find it from a few different domain lookup services, like https://whois.domaintools.com and https://who.is. The lookup sites look a little different but they should all report the exact same information and records for your domain. The only time some services might report different records is shortly after you make a change to your records (like when you switch website or email providers) when servers in different regions might take different amounts of time to update to your new records. Here are a few important pieces of information and how to find them:
The Registrar is the company that leases your website's domain name to you. They're the people you need to contact if your domain needs to be renewed. If Dealer Spike manages your domain you shouldn't need to worry about this.

You'll see the Expires On date for your domain along with when you registered it and when you last changed your domain records.

The Name Servers control what content gets served to your customers when they go to your web address. Dealer Spike websites should show NS1.DEALERSPIKE.COM and NS2.DEALERSPIKE.COM. If your website reports those name servers, you're good to go.
For Your Email
You can look up detailed information about email hosted on your domain using MX Toolbox's MX Lookup Tool at https://mxtoolbox.com. Searching for your domain here will show you what email information your domain is reporting. You can also see whether you've been blacklisted if you suspect people aren't receiving your emails.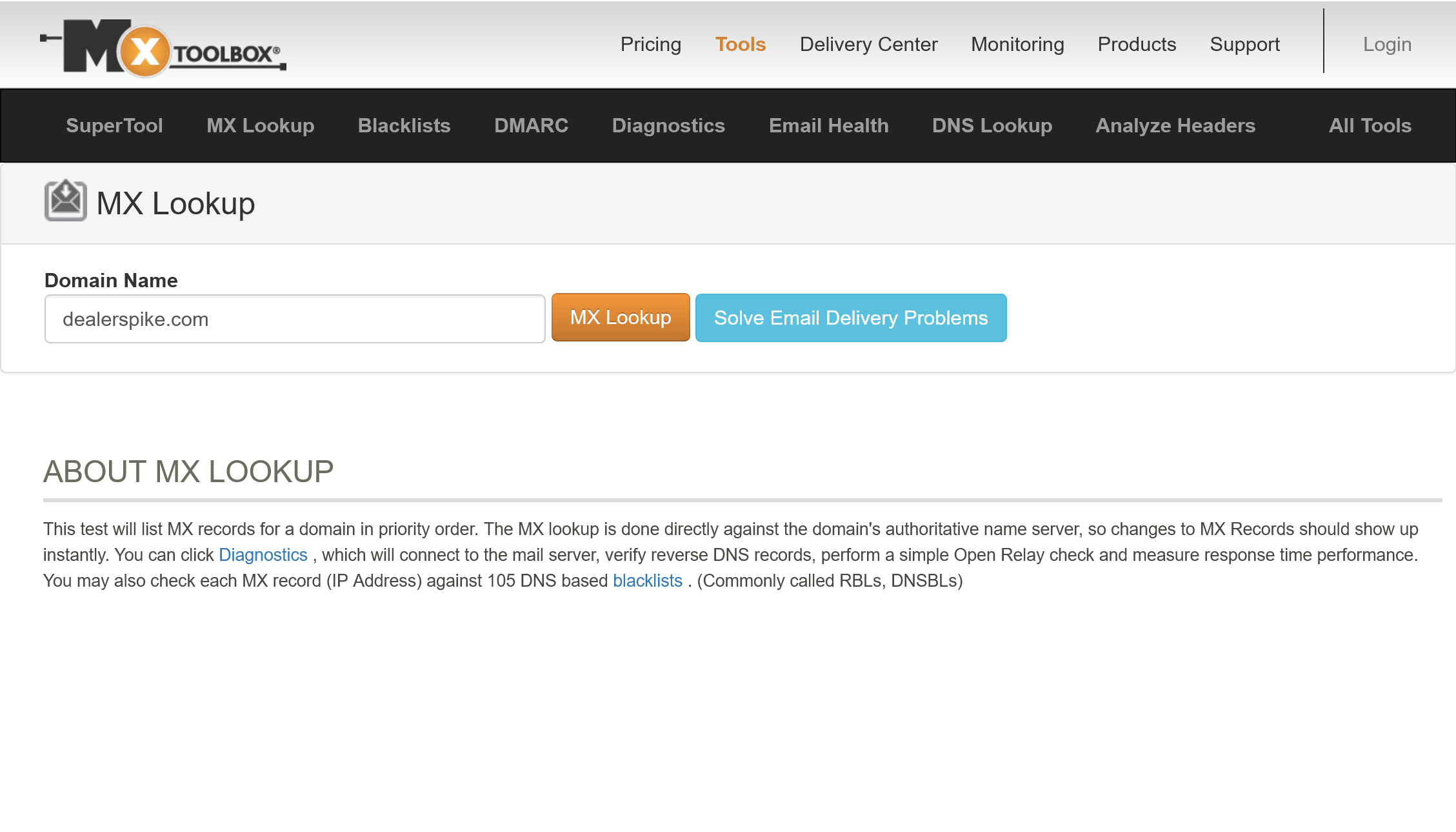 When doing an MX Lookup, search for just your domain, not your full web address (dealerspike.com, not https://www.dealerspike.com). Dealer Spike uses several web servers, so you'll have to check with the Dealer Technical Services department if you think there might be a problem with one of your records.
Blacklist Checking and Removal
You can click on the Blacklist Check button from the report screen to see whether any public blacklisting services have marked your domain for suspicious email activity.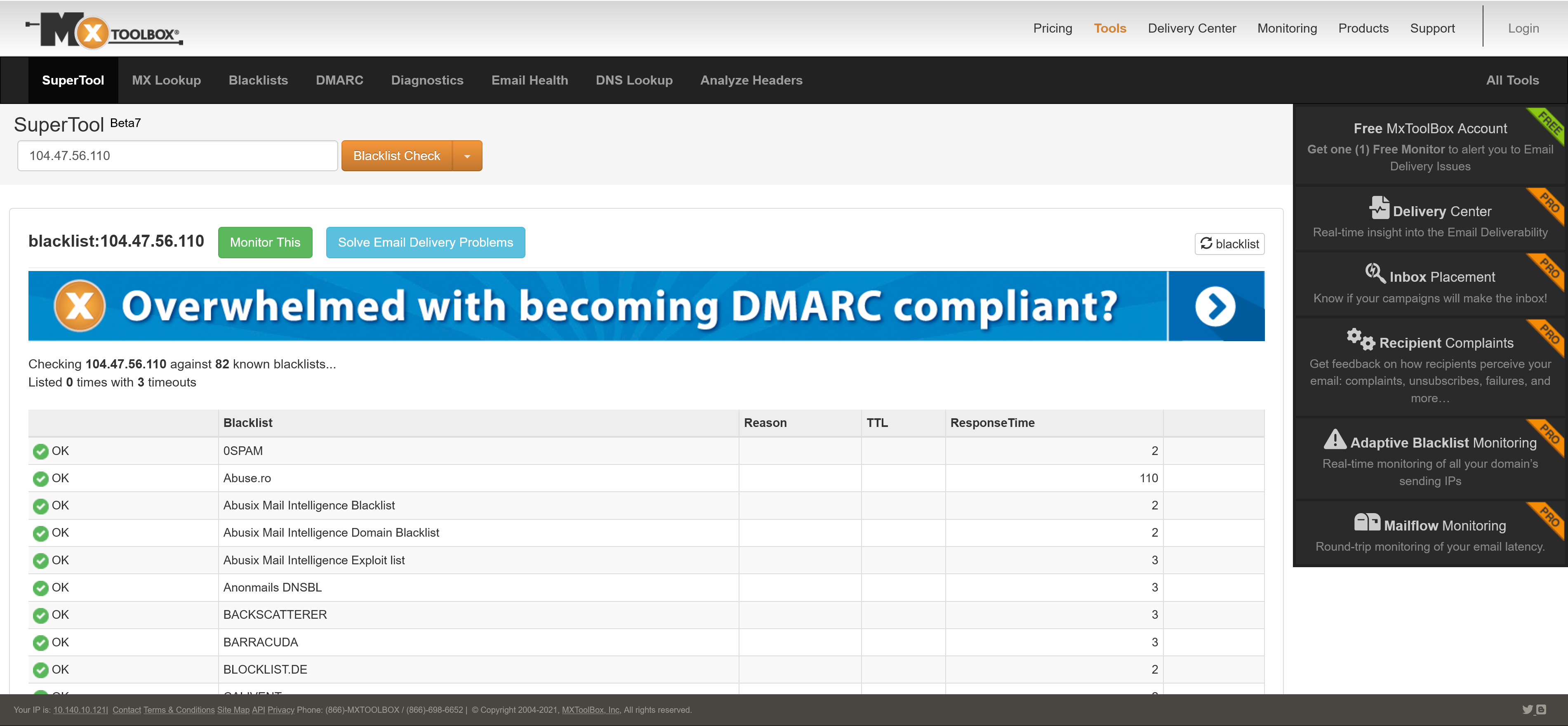 On the Blacklist Check report screen you'll see a long list of public services that identify domains where malicious emails originate (emails with spam, social engineering, or hacking attempts.) If your domain has been blacklisted on any of these services, your outgoing emails might get blocked before they reach your recipients. This can happen if one of your email addresses gets hacked and sends out automated malicious emails for a time. Luckily you can request blacklist removals from this same screen. If your domain is blacklisted on any of the listed services, you should see a link to a form where you can request that the service un-blacklist your domain. Just make sure you've solved whatever security issue caused the malicious activity in the first place before requesting the removal.
Tell us how to make it better.