Lightspeed 3rd Party (3PA)
Lightspeed 3rd Party (3PA)
Updated by Patrick Mares
By completing the steps below you will allow the E-Commerce Platform to access pricing/inventory for Aftermarket Parts and Private Catalog Items that exist in your Lightspeed Account.
Key Notes:
Some of these steps MIGHT have been performed for you if you were migrated from the legacy E-Commerce.
This feature will only work with EVO.
If you have not already, you will need to contact your Lightspeed representative to have them activate/allow the 3rd party integration. You need them to provide you with your "3PA Dealer ID".
This article documents Ecommerce management systems. If you need instructions on accessing Ecommerce,
click here.
Browse to Settings > Lightspeed from the main navigation bar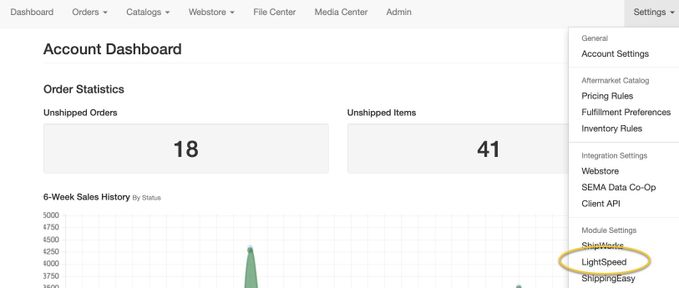 Step 1 - Enter Your 3PA Credentials
You will land on a page for both Web Orders Module and 3PA/Data Warehouse. Under 3PA/Data Warehouse, click "Enable" and enter your 3PA Dealer ID.
Step 2 - Configure Your Availability/Pricing Settings
These settings will tell the E-Commerce Configuration exactly how you want it to recognize and pull the price and inventory within your Lightspeed account.
Use Lightspeed Inventory
Check the box if you want the system to pull in your inventory for use on your webstore. The system pulls inventory from the "On Hand" field in your Lightspeed account. If you are just wanting the Lightspeed connection for price management you can leave this unchecked.
Clear Previous Quantities
For E-Commerce users, we recommend checking this box to ensure that you have a true representation of your inventory.
Manage Supplier Codes
You must add in your Supplier Codes. These are unique to your Lightspeed account and will allow the system to pull the precise price/inventory as you have it arranged in your account.
Click "Manage Supplier Codes" and "Add".
Catalog - Select Aftermarket, Private
Supplier Code - Retrieve from your Lightspeed account and enter
Manufacturer/Distributor - Select the applicable brand
Lead Time Value - If someone places an order on your webstore how many days will it take you to ship out and provide a tracking number? Put that number here
Use Pricing - Check the box if you want to use the pricing in your Lightspeed account. The system pulls pricing from the "Current Active Price" field in your Lightspeed account. If left unchecked the system will use the msrp that we most recently pulled from each brand/distributor.
Step 3 - Make Sure to Hit Save
Additional Notes:
The system pulls inventory from your Lightspeed account every morning
If a sale occurs on your webstore the system will automatically decrement the quantity from the inventory that is available on your webstore for that given day. The following morning the system will again pull what is available in your Lightspeed account.
Tell us how to make it better.
Thanks for the feedback!