Updated by Randall Theil
Estimated Reading Time: 5 Minutes
Required Permissions: Blog
Log into your site's admin panel.
Click on the Content tab at the top of the page, then on the Create Post button.
Fill out the Create a New Post page with the info for the new blog post.
Click the Publish button in the lower right of the page, and choose whether to publish now or schedule for later.
Blogs can be a great way to provide stories, useful information, news, and more.  This article provides step-by-step instructions to navigate to and use the new blog posting tool.   
Start by signing into your site's Admin Panel. If you need instructions on signing in, click here.
Once the admin panel home page is loaded, click the Content button on the above navigation bar.  

Next click the New Post button from the dropdown menu. 
If "New Post" is not an available option, please contact the Technical Support team to acquire this permission.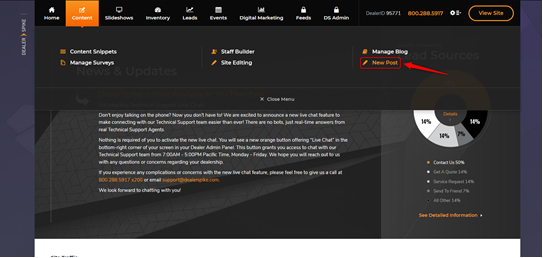 Once the Create a New Post page is loaded, you should now be able to write your blog post.   

While writing your blog post, there are a couple of options available for you to save or publish your article.  Here are the available options:   

The "Save Draft" button saves the current content within your article and allows you to continue your work at a later time. 

When the "Publish" button is selected, a couple of options will be available. You can either "Publish Now", which will make the post instantly available on the customer-facing blog page.  Or, you can "Schedule" for the article to automatically post on a specified date. 

You can view any published blog posts by visiting the built-in blog page on your site.  You can view this page by appending "/blog" to the end of your website's URL.  
Example: https://www.dealer-website.com/blog 
Tell us how to make it better.
Thanks for the feedback!