Update Fitment by CSV Import
Update Fitment by CSV Import
This article documents Ecommerce management systems. If you need instructions on accessing Ecommerce,
click here.
Fitment values must be imported individually. There is no way to just import a range. To get the YMM search bar to function correctly every unique vehicle must be represented.  An item compatible with the2005-2008 Yamaha YZ 250 might use the following rows:
2005 Yamaha YZ 250
2006 Yamaha YZ 250
2007 Yamaha YZ 250
2008 Yamaha YZ 250
To begin with, browse to the File Center using the main navigation bar. Near the bottom of the left-hand navigation bar, under " Catalog Import", click "Private Catalog: Import Fitment"

Step 1 - Download Template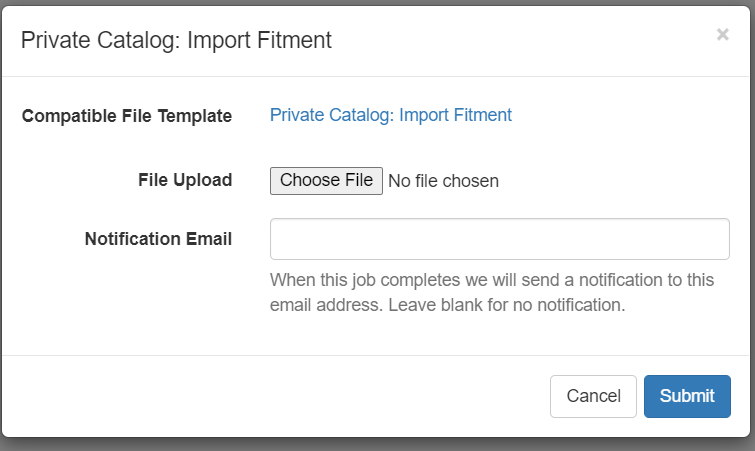 Download the Compatible File Template Private Catalog: Import Fitment link shown in the above image.
Open the downloaded file.
For this template and any others in the E-Commerce platform, make sure that you review the developer notes so that you can ensure that your file meets the required specifications.
Step 2 - Populate Template With Your Data
This template has six (6) columns, some of which are optional.  Below we offer an explanation of what each column header represents.
Manufacturer.name
This is the manufacturer name of the Private Catalog Product that we are attaching fitment to.
Product.manufacturer_part_number
The MPN of the Private Catalog Product
VehicleYear.name
1999, 2005, 2020, etc. Make sure there are no trailing spaces on the end of the entry.
VehicleMake.name
Spelling and capitalization matter!
Yamaha
Ski-Doo
John Deere
Harley-Davidson
VehicleModel.name
Triple-check your work here, everyone. You are going for uniformity on your naming conventions.
Ranger 4x4 400
Ranger 4x4 500 EFI
Chief Blackhawk
Chief Blackhawk Dark
Fitment.delete
Put a 1 in this column if you want to delete a line of fitment.
Here is an example of some fitment for some fictitious products made by a fictitious brand

Step 3 - Upload Your Data
Back to the user interface under File Center. When you click "Private Catalog: Import Fitment" you will see "Choose File" next to File Upload.  Click this button to locate the file on your computer.  Double click your file and it will be ready to go.
Enter your email address if you want to be notified when the job is complete.  (optional).
Click Submit
Step 4 - Monitor Job Processing
You will want to monitor the Import that you just ran in File Center.  The job will be in a Pending or Processing status until the software has completed it.  These jobs typically take 30-60 minutes depending on the size of the CSV file.
Once finished you will see the job Completed or Complete w/ Warnings. Click on the job and you will have access to a Processing Report.  Open the report and the success or failure of each line item will be reported.
If you want to more examples of how to enter catalog data into the csv and see how it will display on the web,
Click Here
.
Tell us how to make it better.
Thanks for the feedback!