Important Analytics and SEO Terms and What They Mean for Your Site
Updated by Randall Theil
Alt Text
Alt text is text that gets added to images on web pages to let crawlers and accessibility software know what's in them. Users normally don't see alt text, but it functions to improve search ranking and help vision impaired users find content on your site. Good alt text is short, descriptive, and includes keywords that make sense for the picture.
Important note about alt text
: If your site has images describing promotions with financial implications (like deals on financing / trade-ins / leasing), the details of the promotion must be spelled out in the image's alt text or elsewhere on the page (like in a text description below the image). If you do not include machine-readable text for financial details in images, users may report they missed these details, and you may incur legal liability.
Click here
for more information on accessing and filling out alt text.
Bots / Crawlers
Bots or crawlers are automated programs that visit and scan your website. Search engines like Google use crawlers to scan and analyze websites all over the internet to find new pages and content to serve in search results. Bots might visit your site for a variety of reasons (including nefarious ones like trying to spam your lead forms) and can show up in your analytics data like regular users. All websites get visited by bots and crawlers.
Bounce Rate
The percentage of visits to your site where the user left without going to another page or completing another significant action (like filling out a form). Each bounce isn't necessarily a failure. A user who finds your hours page by searching for it online might get all the info they need to come into your store, for example. Generally you want to have as low a bounce rate as possible, though. Bounce rates can vary wildly and anywhere from 30-70% is common.
Canonical Tags
Canonical tags are pieces of code embedded in web pages that prevent duplicate content errors by telling search engines and other crawlers if there's a canonical, or original version of the web page at a particular URL. If the same page can be accessed from multiple different URLs, or if two or more pages on your site have the same content (like if your John Deere and New Inventory page have the same units in the same order), it's important to have a canonical tag on all of the related pages pointing to a single URL or the pages could get marked as duplicates or compete with each other in search results.
Dealer Spike automatically adds canonical tags with search engine-friendly URLs for all inventory pages that might appear on the site at multiple destinations, so you should only ever have to worry about duplicate content on custom content pages. If you think you have pages that need canonical tags added, reach out to the Technical Support department.
Conversions
Conversions are one of the key performance indicators for how well a commercial website is performing. Conversions can be anything, but they're usually an ecommerce transaction or customer lead being submitted. Usually for dealer websites leads are the primary conversion metric being tracked, but it could be any kind of trackable user action like clicking on a link. Conversions are tracked using a system called goals in Dealer Spike's analytics platform. The technical support department can set up custom goals for your site by request. Click here to read more about goals.
IP Addresses
IP Addresses are unique identifiers for devices connecting to the internet. Each of your visitors has an IP Address, and so does the server your website is accessed from. You'll see IP Addresses for your users in your Dealer Spike analytics in the Visitor Log under the Reports tab. Note that while IP addresses are unique, one site visitor could show up under multiple IP Addresses if they connect to your site from multiple devices or networks (they'll have a different IP address on their home computer than on their cell phone, for example). IP addresses look like 192.0.2.1 or 2001:db8:0:1234:0:567:8:1.
JSON-LD / Schema Data
JSON-LD is a format for schema data, which is code on websites that describe what the site is about and who runs it to search engines and other crawlers. When you see business information listed next to a web link on a search engine (like hours of operation and the address), that information is often pulled from the schema data, so it's important to make sure it's filled out and kept up to date. Every Dealer Spike site has JSON-LD with customized information for your business, and we'll update it for you when you ask us to change things like your hours, address, or phone number. If you want to make a specific change or have a question about your site's JSON-LD data, reach out to the Technical Support department.
Keywords
Keywords are the specific words and phrases your customers use when searching for products like yours online. They might be very specific ("new Kawasaki Ninja H2") or very broad ("trailers") and might be different than what customers are searching for the next state over, or on the other side of the country. It can be a lot of work to find good keywords for your products. If you aren't sure where to begin, our SEO team can do the research and even implement content targeting your customers on your site. Click here to read more about what's contained in our SEO packages.
Meta Tags
Meta tags are pieces of information that describe what's on a web page to search engines and other crawlers. There are three meta tags: the description, keywords, and title tags. Meta tags that effectively describe the content on their pages will get those pages ranked higher when users search for related keywords. Basic meta tags are automatically generated for pages on Dealer Spike websites, but you can get access to customize each tag on every page through your site editor by reaching out to the Technical Support Department. Click here to read more about it.
Robots.txt
Robots.txt is a behind-the-scenes file on each website that has rules for crawlers viewing the site. Robots.txt is commonly used to block crawlers from viewing a site or limit how often a crawler can access pages on the site. Usually crawlers are blocked or slowed down if they make too many requests in too little time, which can slow down the site for other users. Malicious crawlers can get around robots.txt though, and Dealer Spike has other ways of blocking spam bots, so this isn't something you should ever need to worry about. If you want to add something to robots.txt anyway, send in a request to the Technical Support Department.
Referrers
Referrers are other websites that send visitors to your site through links. If a visitor clicks on a link on Twitter, Facebook, a local newspaper's site, or a third party business directory, you can see how much traffic you're getting from it. To view your site's refferal sources in Dealer Spike's analytics center, click on the Websites and Social tab on the Reports page.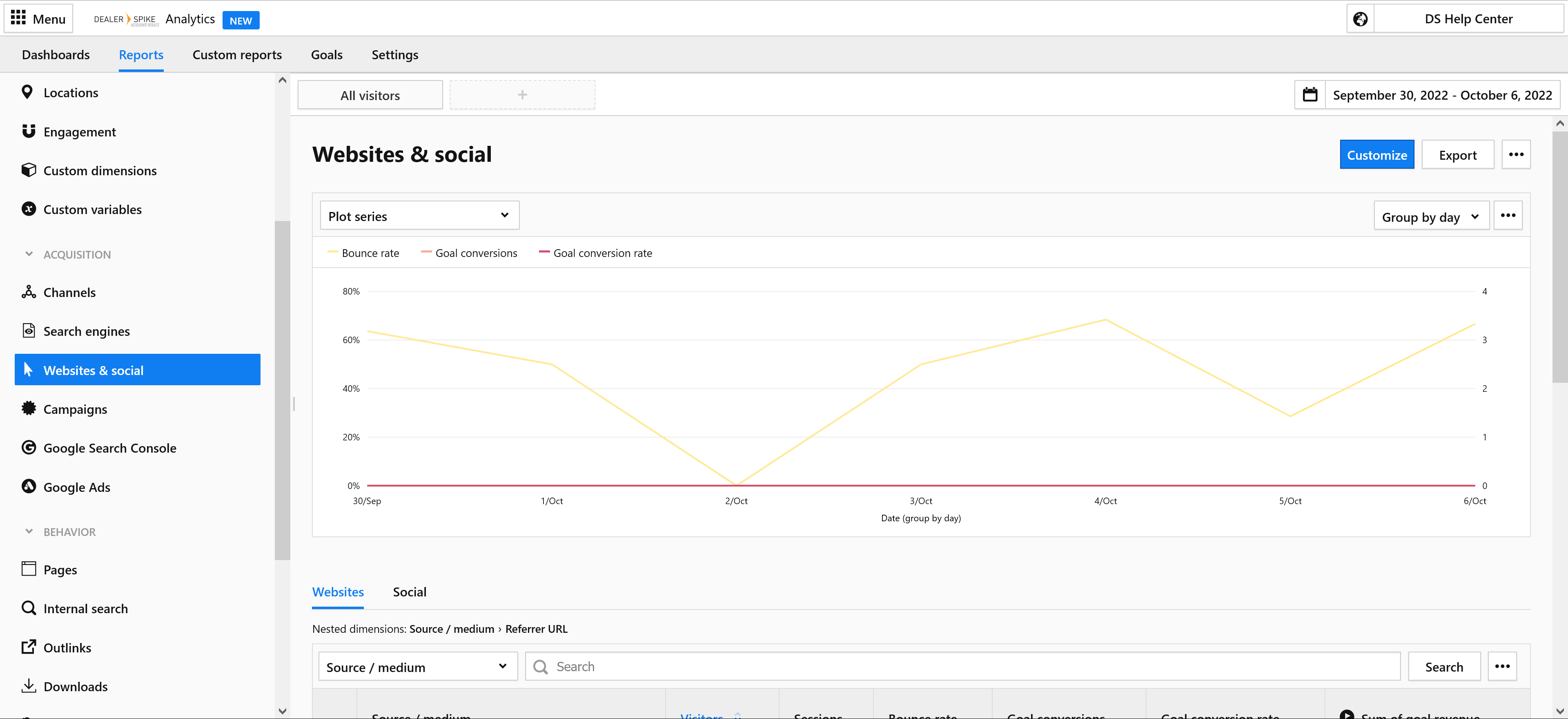 Search Engines
Search Engines are the websites or apps people are using to find websites. Google is by far the most popular in North America, but others do exist, like Bing or DuckDuckGo. Because search engines use proprietary technology to generate search results, your site may rank differently on different search engines for the same terms.
Search Ranking
Search Ranking is where your site appears in a search engine's results when someone searches for keywords related to your business. One of the main purposes of search engine optimization is getting your site's pages to rank above your competition.
Sitemaps
Sitemaps are used by search engines to help find and index (log and save to display in search results) all of the pages on websites. Search engines shouldn't need a sitemap to read your Dealer Spike site, which generally shouldn't have any hidden pages or content on it, but the Technical Support department can create a basic sitemap for you that you can submit to search engines like Google on request.
URL Parameters
URL parameters or query parameters are extra sections at the end of a URL that store information related to the page. The first URL parameter always begins with a question mark (?) and the rest begin with an ampersand (&). One of the most common uses for URL parameters is to track what users went to a specific like by adding UTM parameters to the end of the page's URL.
The bolded parts of this URL are URL parameters: https://www.example.com/map-open-close-holidays--hours?utm_source=fall-newsletter&utm_medium=email&utm_campaign=autumn-sales-event. Read more about UTM parameters in Google's external documentation here.
Tell us how to make it better.