Intro to the Auction123 Dashboard
Intro to the Auction123 Dashboard
Dealer Spike's Auction123 integration allows you to post and automate listings on Craigslist, eBay, Facebook Marketplace and more. Each of your Dealer Spike websites will be connected to its own Auction123 dashboard and your inventory will be automatically imported from your site to Auction123 on a nightly basis. This article will show you the basic layout of the Auction123 dashboard. For info on signing into the Auction123 dashboard, click here.
While you can make changes to units inside the Auction123 dashboard, it's best to continue managing your inventory from your Dealer Spike admin panel or DMS, as changes made to units inside Auction123 won't feed back into your main website.
The Dashboard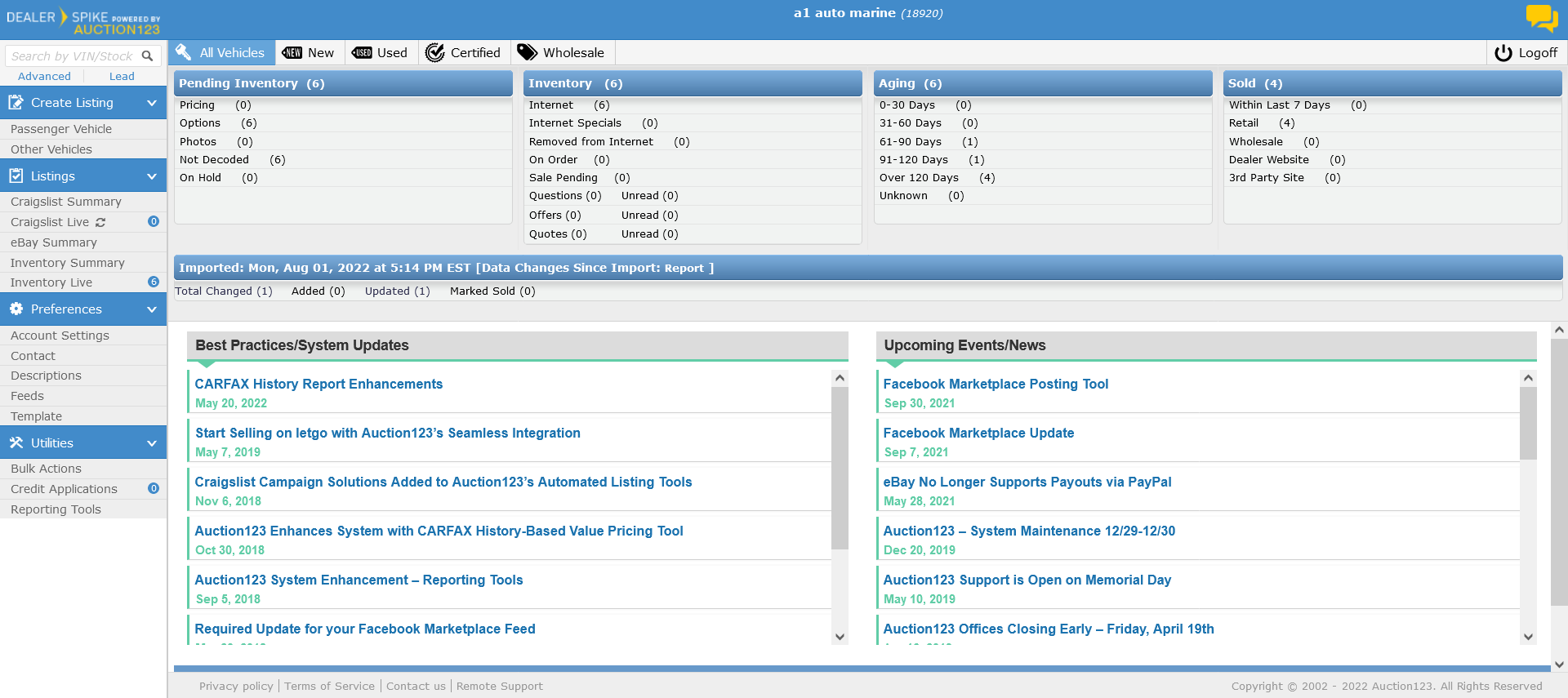 The search bar in the upper left allows you to find units from all of the inventory that's been imported from your site.
You can also use the filter buttons at the top of the page to look at slices of your inventory.
Clicking into the Create Listing menu on the left will take you to a page where you can manually add units to Auction123 that don't come from your site.
The links under the Listings menu on the left allow you to review your listings and compare between platforms.
The Preferences menu on the left allows you to change settings related to your Auction123 account.

Under Account Settings you can change basic details about how your dealership's posts will look, as well as control the accounts you're posting from and set up history reports for your listings.
Contact lets you set up your Dealership address and contact details as well as create custom autoresponder messages to send to customers who submit leads on your listings.
Descriptions lets you create generic unit descriptions you can pull in while posting units.
Feeds lets you see where your Auction123 inventory is coming from and set rules on how it can be exported.
Template allows you to customize a vehicle listing layout for your Auction123 ads.

The Utilities menu on the left contains links to miscellaneous functions related to your account.

The Bulk Actions page allows you to make changes to many of your Auction123 listings at once.
The Credit Applications link takes you to any credit applications that have been submitted for your listings.
Reporting Tools takes you to a page where you can access standard reports on how your listings are doing.

Lastly the Best Practices/System Updates and Upcoming Events/News feeds at the bottom of the control panel will show blog posts, tips, and news directly from Auction123.
Tell us how to make it better.
Thanks for the feedback!