Request Outgoing Inventory Feeds (Exports) for Third Party Listing Sites
Request Outgoing Inventory Feeds (Exports) for Third Party Listing Sites
Updated by Marcia Lovell
Estimated Reading Time: 2 Minutes
Getting your major unit inventory maximum exposure is critical for the success of your business. Listing inventory on third party listing sites is a great way to get your inventory in front of more customers, and we can help!
Dealer Spike cares about protecting your data! Please remember, we will NEVER set up a new inventory feed at the request of a third party, even if they copy a dealer contact in their request.
Follow these steps to get started:
Contact your Customer Success Account Manager, either by phone or by email. You can find your Account Manager's contact information on the Admin page of your Dealer Spike website. Click here for more details on reaching your account manager.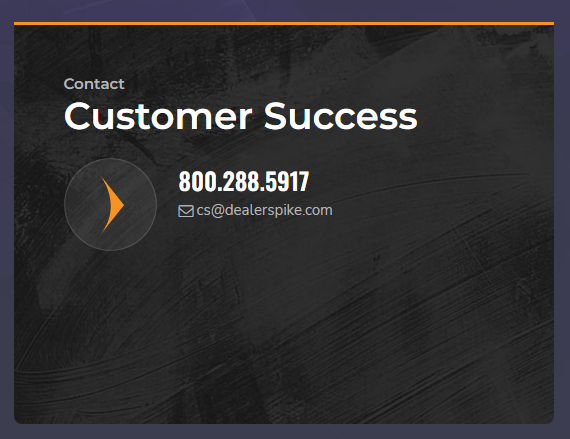 Your Account Manager will work with you to get the new outgoing feed information added to your contract - even when it's free - then engage the proper team to get the new feed up and running.
Some third party listing sites charge a fee directly to the dealership for using their services. This is unrelated to Dealer Spike so please ask your third party listing partner about this in advance.
Questions? Please reach out to your Dealer Spike Account Manager.
Tell us how to make it better.
Thanks for the feedback!