Inventory Trim Matching Guide
Updated by Marcia Lovell
Estimated Reading Time: 3 Minutes
Have you ever tried to add a unit and found it didn't come with a manufacturer description, specifications, or stock photos? Dealer Spike's trim matching process attempts to match make, model and year of added units to information in our database. Learn how to optimize trim matching and add any missing unit information below.
Units added through DMS integrations are not guaranteed to automatically match up with trims. It depends on how the units are entered into the DMS. The Integration Team will assist with trim matching to OEM Model Code/SKU sheet data that exists within the Dealer Spike database. Custom trim matching of individual units not in our database is not an offered service.
Trim matching for individual units is done by the dealer through the Inventory Manager in the Dealer Spike Admin Panel.
What is a trim?
A trim is a unique version of a particular model. Each trim offers different features or equipment for that particular model.
How does Dealer Spike access and store OEM trim data?
To attempt a trim match, the specific manufacturer model must exist in the Dealer Spike Trims Database. An OEM model is populated into the database from manufacturer SKU sheet/model code sheets. We frequently ask dealers to provide us with these SKU sheets.
Because OEMs rely on dealers to sell their products, OEMs are motivated to provide SKU sheets to dealers in a timely fashion.  It is extremely likely that a dealer will have OEM SKU sheets from manufacturers sooner than Dealer Spike can obtain them. Dealer Spike may ask you to provide OEM SKU for models not currently in our database.
Once a SKU sheet is submitted, it can take a week – or even two – for the models to be entered into the database. Our team enters models on a first in, first out basis. 
How are trims matched to inventory units?
The Dealer Spike platform uses the Year, Make and Model fields from the OEM SKU sheet to attempt a trim match. The Make (Model Name) and Model Code in the Inventory Manager must match the OEM SKU sheet listing exactly - or - the Model Code must be entered into the DMS exactly as it is listed on the OEM SKU sheet. Any variation will result in an unmatched unit that will need to fixed by the dealer in the Inventory Manager.
Enter the Model Code into the Inventory Manager (or DMS) exactly as it is listed on the OEM sheet to get the best trim matching result. OEM sheets are all a bit different, as the below examples show: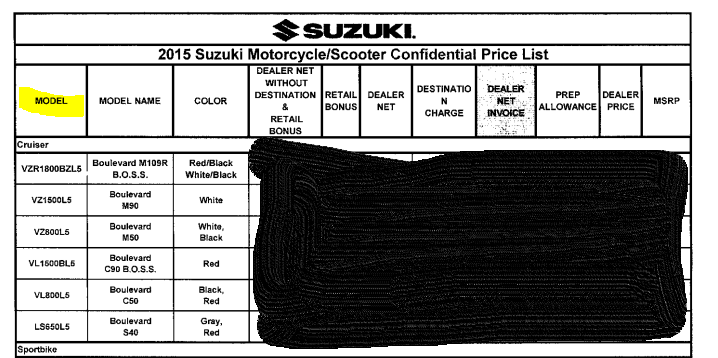 When the model codes match, the trim matching process has a higher chance of working. Because the matching process will not ever match 100% of a dealer's inventory, dealers should expect to supplement the matching process by regularly managing their inventory units through the Inventory Manager. Once the trim data is loaded from the OEM SKU sheet into the Dealer Spike trims database, the Integration Team will assist with as much trim matching from the trims database to dealer inventory as possible.   If a unit is not on the OEM SKU sheet, the unit will not be in the Dealer Spike database so the dealer will need to add it through the Inventory Manager. Dealer Spike does not offer custom trim matching nor do we manually trim match individual units that don't match to OEM models within the database.
Troubleshooting
Older inventory units may not ever match to a trim in the Dealer Spike database, due to the unavailability of historical OEM SKU sheets. Access to unit data prior to the mid 2000s is generally limited due to lack of digital records for those units.
If unit data is incorrect in the DMS, those errors will appear on the website and will need to be corrected by the dealer in the DMS.
How do I add or modify units that fail trim matching?
Got more questions about trim matching? Connect with your Customer Success Account Manager today.
Tell us how to make it better.